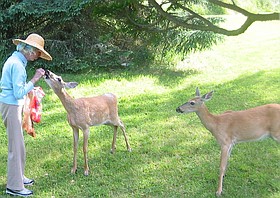 Marguerite Holder
Grangeville, Idaho
February 21, 1920 - February 24, 2015
Marguerite Holder, 95, died Feb. 24, 2015, in Grangeville, Idaho, and was born Feb. 21, 1920, in France. She was the youngest of four children. Their parents died within months of each other, both with cancer, at age 59, when Marguerite was 17-years-old.
She had two brothers. Her sister, Mary, was a war bride and came to the United States to marry Dale Graham, son of Albert and Adda Graham of the Clearwater area. Marguerite joined them here in 1949. She made her home with them on the South Fork of the Clearwater River. Marguerite loved the outdoors and worked hard on the small family farm milking cows, helping with the cattle and chickens, gardening and canning. She did a lot of the household chores cooking and cleaning as well. Marguerite spoke several languages, including English. She taught herself to speak and read English fluently by reading the newspaper. Her fiancé was killed in World War II, as was one of her brothers. Although she had ample opportunities to marry here in the United States, she said Robert was the love of her life and there could be no one else for her.
After Dale and Mary passed away, she spent most of her later years alone on the home place. She found great comfort and pleasure in befriending and feeding six to eight deer at a time in her yard. She prepared fresh and cooked foods for them daily. They learned to trust her and several would eat right out of her hand. They gave her something to look forward to each day.
Marguerite valued honesty, hard work, a good laugh, family and the home place pets.
Hospitality was very important to Marguerite and few arrived at her door who did not get convinced to come in for coffee, tea or a cold soda along with brownies, cake or cookies. Failing health caused Marguerite to make her home for the last six years of her life at Meadowlark Homes in Grangeville. She made many new friends there at the home who came to love her as they took care of her.
We, who had the privilege of knowing Marguerite, will greatly miss this dear, sweet, lady. Her memory will be treasured in our hearts forever.
Graveside services were held on Saturday, Feb. 28, at Prairie View Cemetery, Grangeville. Services were under the direction of Blackmer Funeral Home, Grangeville.