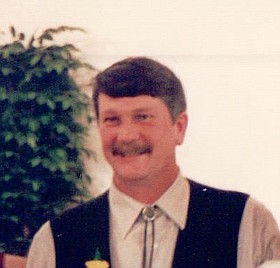 Richard T. Frei
Payette, Idaho
May 6, 1955 - March 1, 2015
Richard T. (Rick) Frei died Sunday, March 1, 2015, in Boise, Idaho, from complications of a stroke. He was born in Grangeville, Idaho, on May 6, 1955, the ninth child of Al and Caroline (Wemhoff) Frei. He graduated from Grangeville High School in 1973. Rick loved being outdoors and helped on the family farm and also worked with his brothers on their farms. Rick, like many in his family, loved flying and had his pilot's license at an early age. He drove logging trucks until 1999 when he and his wife, Deb, bought the Short Branch Bar in Riggins, Idaho, which they remodeled and renamed the Rodeo Club. Rick used to say he was the PR guy and Deb was the worker bee. After selling the Rodeo Club in 2008, Rick and Deb moved to Grangeville, built a house and continued farming. Rick and Deb lived their lives together to the fullest and took risks. Rick was very creative and could build or repair anything. He liked to hunt and fish and spend time with family. He was always a very caring person and demonstrated this in a profound way by donating a kidney to his brother, Leroy.
Rick was married to Cheryl Vrieling and they had a daughter, Nicole, in 1980. In 1996 Rick married Deborah Bell gaining a stepson, Rob, and stepdaughter, Julie.
Rick is survived by his wife, Deb of Payette, Idaho; daughter, Nicole and Jay Jenkins of Clarkston, Wash.; stepdaughter, Julie and Danny Jensen of Vancouver, Wash.; stepson, Rob Peterson and wife, Mary of Ontario, Ore.; grandsons, Jace and Alex; granddaughters, Cadee, Megan and Kayla; and two great-granddaughters. He is also survived by four brothers and their wives, Ron and Glenda, Gerald and Jan, Mike and Jana all of Grangeville; David and Ann of Weiser, Idaho; two sisters, Kathy Lacey and husband, Terry of Dublin, Calif., and Helen Scrivner and husband, John of Spokane, Wash.; and two sisters-in-law, Barbara Frei Gehring of Grangeville and Marilyn Frei of Spokane; numerous nieces, nephews and cousins.
He was preceded in death by his parents, Al and Caroline Frei; brothers, Leroy and Jim.
A Rosary will be held on Monday, March 9, at 1:30 p.m. at Sts. Peter and Paul Catholic Church in Grangeville, followed by a funeral mass at 2 p.m. Burial will follow at Prairie View Cemetery, Grangeville. Friends may call Sunday, March 8, from 5-7 p.m. at Blackmer Funeral Home, Grangeville. Send condolences to blackmerfuneralhome.com.