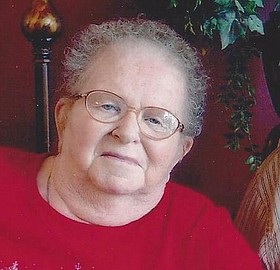 Augusta Grace Roe Pennecard
Grangeville, Idaho
June 11, 1931 - March 14, 2015

Augusta Grace Roe was born June 11, 1931, to Percy Ivan and Ethel Mae Thacker Roe in her grandparents' home in Rupert, Idaho. She passed into her Heavenly Father's arms on March 14, 2015, at St. Mary's Hospital in Cottonwood, Idaho.
Grace's family lived in Pocatello and she attended Roosevelt Elementary School until sixth grade and junior high at Franklin Jr. High. The family moved to Red River when she was a sophomore and she went to school and graduated at Grangeville High School in 1949. The family then moved to Nezperce. Grace worked for local families and started attending the Nezperce Christian Church. That is where she met the love of her life, Lester Pennecard. They were married in the Nezperce Christian Church Feb. 14, 1954. Grace worked at the Lewis County Courthouse in the treasurer's office and later at Billows Hardware Store.
Grace was an avid gardener and raised a huge garden and canned every kind of fruit and vegetable she could get her active hands on. In the early years she sewed all the children's clothes and her own. The family lived in Nezperce early on and then at the Trudy Weber place until 1964 when they moved back to Nezperce. Grace had a "truck garden" at that home and took great pride in her huge cabbages, corn and every kind of vegetable imaginable. At dinner the children had to take at least one bite of everything so they eventually learned to love vegetables. Grace helped out with 4-H as a leader and support to her children's projects.
In 1974 they moved to the Pennecard Ranch east of Nezperce. During this time she was active in the VFW Women's Auxiliary in Kamiah. Grace and Lester travelled around the northwest and she was his "wing-man" while he was processing crop insurance claims. They also went to England twice to visit family.
In 2012, Grace and Lester moved from the Pennecard Ranch into Grangeville Health and Rehab Center.
She is survived by her husband of 61 years and her children: Mary Lu (Mike Crea), Ed (Tracy), Linda (Larry Walkup), Tom (Candy), Glenys (Marty Hazelbaker), Rita (Jerry Trojan); numerous grandchildren and great-grandchildren; nieces and nephews; and a sister, Rita Carter .
. She was preceded in death by her parents and her brother, Thomas Roe.
A memorial service will be held at the Nezperce Christian Church today, Wednesday, March 18, at 10 a.m. with a gathering in the social hall to follow.
Suggested memorials can be sent to Nezperce Christian Church or Nezperce Ambulance Fund.
Trenary Funeral Home is in charge of arrangements.