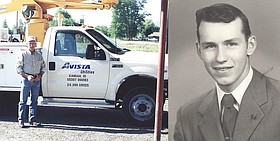 Robert "Bob" C. Owens
Kamiah, Idaho
October 10, 1935 - March 13, 2015

Surrounded by his loving family, Robert (Bob) Owens passed away Friday, March 13, 2015, at his home in Kamiah after a brief battle with cancer.
Bob was born Oct. 10, 1935, in Tribune, Kansas, to Wilbur (Webb) and Thelma (Copeland) Owens. At the age of 5, the family relocated to the Boise, Idaho area and eventually made their home in Anatone, Wash. Bob attended schools in Council, Idaho, Anatone, Wash., and graduated from high school in Asotin, Wash.
After graduation, Bob worked as a service station attendant during the day, and at night he worked for the Asotin County Road Department doing vehicle maintenance to provide for his young wife and daughter, Sheryl Ann. The marriage ended in divorce.
He enlisted in the United States Marine Corps (USMC) in 1958. He graduated boot camp at Camp Pendleton, Calif. He was stationed at the Marine Corps base, Kaneohe Bay, Hawaii. During his service he was a military police officer (MP). He proudly served until 1962. After his service in the USMC, he returned to the Lewiston, Idaho, area to begin his career with Washington Water Power (WWP) starting as a meter reader in the LC Valley, Camas Prairie and the Northfork of the Clearwater River.
His son, Robert R. Owens, was born Jan. 6, 1963. In March, 1965 he joined the lineman apprentice program in Clarkston, Wash. His son, John C. Owens, was born Aug. 21, 1965. In 1968 he relocated to Orofino, Idaho, as a journeyman lineman. In 1975 he was promoted to the WWP local representative in Pierce, Idaho. During his time in Pierce he enjoyed helping the community, hunting for elk, and he spent most of his free time on Dworshak.
On Thanksgiving Day, 1983, he relocated to Kamiah where he would serve as the local representative. He built his forever home in 1994, overlooking the Clearwater River. He married his loving wife, Sharon Sage, in Coeur d 'Alene, Idaho, on Dec. 23, 1999. After 40 years of service for Avista Utilities (formerly WWP) he retired in 2003.
After retirement, he enjoyed travels to Alaska, Yellowstone, Glacier, and camping with family and friends at Dent Acres on Dworshak.
He is survived by his wife, Sharon Owens of the family home; son, Robert R. (Debie) Owens of Lewiston, Jayson (Christina) Sage of Post Falls, Jaynelle (Mike) Norman of Kamiah, Jaynecca (Joe) Herkelrath of Post Falls; 18 grandchildren; five great-grandchildren; numerous nieces, nephews and close friends.
He was preceded in death by his father, Wilbur (Webb) Owens; mother, Thelma (Copeland) Owens; stepmother, Augusta (Gussie) Owens; daughter, Sheryl Ann; son, John C. Owens; sister, Phyllis Acree; brother, W. Frank Owens; and two infant grandsons.
Friends and family are invited to bring a covered dish for a potluck lunch at the family home Saturday, March 21, at 1 p.m. Graveside service, with full military honors, will be Sunday, March 22, at 1 p.m. at the Anatone Cemetery in Anatone, Wash. Please join the family at the Anatone Community Center after the graveside service for coffee and cookies. Trenary Funeral Home is in charge of the arrangements.