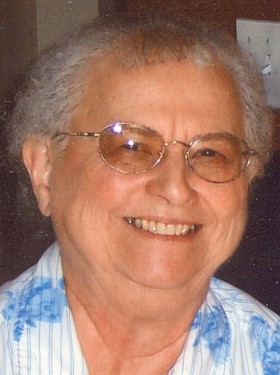 Bonnie Jean Wassmuth
Grangeville, Idaho
November 7, 1932 - March 17, 2015

Bonnie Jean Wassmuth, 82, passed away on March 17, 2015. She was born to her parents, Lawrence and Henrietta (Greif) Goeckner, on Nov. 7, 1932. She lived in Ferdinand, Idaho, throughout her childhood, graduating from Ferdinand High School in 1950.
She met the love of her life, Leonard Wassmuth, and they married in 1952. They began their life together in Grangeville, raising two daughters, Shirley and Sheri. Bonnie worked at Joseph's Bakery, Shamrock Cafe, and loved baby-sitting for many friends prior to purchasing and operating Len's Self Service Laundry. She found great joy in meeting and making many friends while there.
After retirement, Bonnie enjoyed spending time with her family, especially her grandchildren and great-grandchildren. Bonnie was a humble, kind person who always had a smile and helping hand for everyone.
She was preceded in death by her parents.
Survivors include her husband, Leonard; daughters, Shirley (Mike) Alkire, Sheri Wassmuth; sister, Noreen Huntley; brothers, Dan (Rosemary) Goeckner and Ted (Barb) Goeckner; grandchildren, Alicia (Guy) Ellibee, Brian (Nicki) Gortsema, Christi (Adam) Sonnen, Shayla (Zach) Kaschmitter, Shaydn Wassmuth; great-grandchildren, Brock, Brandon, Bridgett (Dusty), Eric, Cole, Cora, Haylee, Lilly, McKinley; great-great-grandhildren, Rylie and Remi; and many nieces, nephews and friends.
Rosary was recited at 10:30 a.m., Friday, March 20, at Saints Peter and Paul Church in Grangeville, with Mass following at 11 a.m. Burial followed at Prairie View Cemetery in Grangeville.
Arrangements were under Uhlorn Funeral Home.