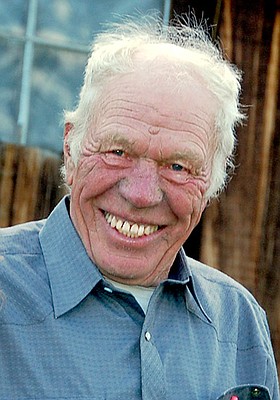 Frank Enneking
September 14, 1934 - March 21, 2015
Frank Enneking, 80
Cottonwood, Idaho
Frank Enneking, 80, died peacefully at home surrounded by his wife and family on Saturday, March 21, 2015. Frank was born Sept. 14, 1934, in Keuterville, Idaho, to Joseph Enneking and Lizzy (Engel) Enneking. Frank was the sixth of Joe and Lizzy's 12 children. He was born on the family ranch west of Keuterville where he learned the values of hard work and loyalty to family.
Frank grew up on the prairie attending the Timber School and St. Gertrude's Academy. He started working in logging before being drafted into the Army where he earned his GED and served two years in France helping to rebuild roads. Following his return to the prairie, he went back to logging, construction, and helped his dad and uncles on the ranch.
In June, 1961, he married Dolores Carlson and started raising a family before moving to St. Maries, Idaho, where he built logging roads for Potlatch. Frank and his family moved back to the family home in 1974 following the death of his mother where he had resided until recently moving to Cottonwood.
Frank was always in demand for his skills and talents. If you wanted to have something built, Frank was the man for the job. He leaves many structures behind as a legacy to his abilities. Personal homes, the Cottonwood hospital, local barns, shops, church steeples… many of these have Frank's stamp on them.
Service to community was also important to Frank. He served as a road commissioner for the Keuterville Highway District and was a long standing member of the VFW. For many years he was the commander of the color guard where he marched in parades and, most importantly, officiated at more than 50 military funerals. Several of these he did with buglers, granddaughter Andrea and grandson Adam, who are currently serving in the Air Force.
His true joys in life, however, were spending time with his family, cattle ranching, reading, camping and hunting/shooting. His love of shooting was evidenced by the fact that he was a member of the Cottonwood Gun Club for many years and enjoyed returning in the last several years to watch and offer advice. Frank also had the mind of an elephant and had an amazing sense of humor. He never forgot a thing from complex calculations to a colorful joke. A good day for Frank would have included as many of these things as possible plus: a healthy dose of "BS'ing", story-telling, making light of the foolishness of others, and a cold one.
He is survived by his loving wife, Dolores; his four children and their spouses, Christy and Dan Minck, Julie Enneking, Jean and Butch Spencer, and Bob and Jennifer Enneking; his 11 grandchildren; and six great-grandchildren. He is also survived by his sisters, Teresa, Joeine, Pat; and brothers, Gene, and Joe, Jr.; as well as many nieces and nephews. Frank was preceded in death by his parents and siblings, Jeanette, Eileen, Bob, George, Ray and Nell.
Viewing hours will be today, Wednesday, March 25, from 11 a.m. to 9 p.m. The Rosary will be at 10 a.m. followed by the celebration of life at 10:30 a.m. at St. Mary's Catholic Church in Cottonwood on Thursday, March 26. Burial will take place at the Keuterville Cemetery with full military honors. Memorials are suggested to VFW Post 4902. Arrangements have been entrusted to Uhlorn Funeral Home.