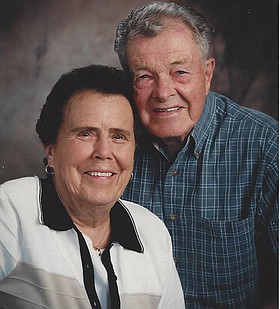 Dorothy "Abbie" H. Johnson
Kamiah, Idaho
June 8, 1924 - March 25, 2015

Dorothy H. "Abbie" Johnson, 90, passed away March 25, 2015, at Clearwater Valley Hospital after a short stay surrounded by her family and friends.
Mom was born June 8, 1924, in Hopkins, Mo., to Otto Roy and Blanche Marie New Clark. As a young child the family moved to Bonners Ferry, Idaho, where she attended all 12 years of school. In high school she excelled in tennis, winning a state medal. After graduation Mom went to work as a telegraph operator where she met a young welder for the Northern Pacific Railroad, Paul Johnson. They were married Sept. 30, 1944 in Tallahassee, Fla., as Paul prepared to deploy overseas during WWII. They celebrated their 70th wedding anniversary in September 2014.
During the war Mom worked for Boeing in Seattle. After his discharge Paul and Abbie moved to Montana and continued their career for the railroad. Their oldest son, Greg, was born in 1948 as they traveled the northern route living in an outfit car which was a box car converted to living quarters. After living in 13 towns in 18 months they decided to move to Coeur d'Alene where Paul went to watch repair school. While in Coeur d'Alene their youngest son, Neal, was born. In 1951 they moved to Orofino where Mom was the movie house ticket taker at the Rex Theatre and later worked at Stoddard Electric as a bookkeeper. In the summer of 1960 Mom and Dad purchased Jarty's Jewelry in Kamiah renaming it Johnson's Jewelry which they owned until retiring in 1984. Mom was active in community events and was co-chairman of the Kamiah Revitalization beginning in 1983. She was a life member of the Kamiah Chamber of Commerce and helped serve the chamber's free barbeque for more than 50 years. Mom and Dad were grand marshal for both the barbeque days celebration and the Kamiah Rodeo.
Mom's greatest passion was the outdoors; she learned to downhill ski in the 1960s, a sport she enjoyed until the age of 87. Summers were spent either on Dworshak Lake on their houseboat or riding a trail motorcycle or four-wheeler; winters were spent skiing at Brundage Mountain or riding her snowmobile.
In the late '70s Mom and Dad purchased property on Mallard Creek near Dixie, Idaho, and built a family cabin "Johnson's Little Jewel" which gave them and their family so much joy and so many memories. This was a place the kids, grandkids and now the great-grandchildren can go to recreate and share the outdoors loved by Mom.
She was preceded in death by her parents, Roy and Blanche Clark; her brothers, Raymond (sister-in-law Jackie), Eldon, Ralph, Robert; and sister, Ruth (brother-in-law Marlin).
She is survived by her husband, Paul; sons Greg (Donna), Neal (Jeannie); four grandchildren, Tracy (Darin) Tucker, Brian (Sarah) Johnson, Jodi (Mike) Reidy, Jason (Kristy) Johnson; and nine great-grandchildren, Savannah, Stephanie and Ryan Tucker, Jenna and Hanna Johnson, Paige and Dylan Reidy, and Kole and Carter Johnson; brother, Phillip (Mary) Clark; and numerous nieces and nephews.
A memorial service will be held Friday, April 3, at 11 a.m. at the Kamiah American Legion Hall at 7th and Main in Kamiah. A meal will follow.
In lieu of flowers memorial contributions may be made to the Kamiah Ambulance Service, P.O. Box 933, Kamiah, ID 83536 or the Kamiah Education Foundation, P.O. Box 142, Kamiah, ID 83536.
Trenary Funeral Home of Kooskia has been entrusted with the arrangements.