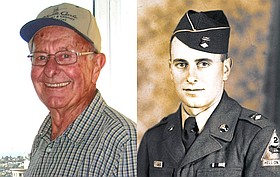 Thomas Schmidt
Greencreek, Idaho
April 27, 1932 - May 4, 2015
Thomas Schmidt, 83, of Greencreek, Idaho, went suddenly and peacefully working at home May 4, 2015, in his back yard. Tom was born on April 27, 1932, to John and Anastasia Schmidt in Greencreek. He attended school at Greencreek graduating in 1950.
Tom served in the Army from 1952 to 1954 in Germany in the heavy-armored 47th tank battalion. While serving in the Army, Tom enjoyed making several trips to Paris, and especially enjoyed going up the Eiffel Tower.
Tom Married Alice Turner in Greencreek on Oct. 13, 1956. Tom and Alice had seven children: Bill (Lori) Schmidt of Culdesac, Grace Schmidt, Mike (Jill) Schmidt, Suzy (Dan) Luper, Nancy (Brad) Bovey, Donna (Harry) Schaack, Ken (Anne) Schmidt, all of Lewiston.
Tom worked as a mechanic at Madden Motors and then at Normac Motors before starting Tom's Auto Repair in Craigmont. He first rented, due to the success of the business, later built his own building. He successfully ran the business for 35 years, retiring in 1995. During retirement, Tom bought a portable sawmill and did custom sawing for many farmers. Friends could always find Tom in his shop working on some project. Tom always enjoyed talking to his friends and customers about fishing and hunting.
Alice passed away in April 2004. Tom married Marilyn Lage on July 1, 2005. Together they enjoyed four-wheeling and camping with family and friends. They especially enjoyed their many trips to Yellowstone.
Tom is survived by his wife and children; 11 grandchildren and one great-grandchild: Josh (Kayla) Bovey, Tom (Becky) Luper, Jessica (Bryce) Gardner, Amanda (Charlie) Koenig, Weston Bovey, Kris Schmidt, Sara (Devin) Byers, Ashley Schmidt, Jake Schmidt, Michael Luper, Matthew Schaack and Nora Bovey. Tom is also survived by his siblings: Marie Hasenoehrl, Jim (Arlene) Schmidt, Eleanor Hinkleman, Joann Schmidt and Margie Schmidt. Tom was preceded in death by his parents, infant sisters, Grace Ann and Bernadine; wife, Alice; and brothers-in-law, Clark Hinkleman and Glen Hasenoehrl.
Tom was an active member of St. Anthony's Society, Knights of Columbus, Craigmont Lions Club and the Parish Council. He held the office of president for all organizations.
Tom had a great love for hiking, fishing and exploring the mountain lakes. While fishing, he always wondered what lake was over the next ridge, and how big or good the fish were, which often brought him to explore many new lakes. Hunting was also a must for Tom every year on Fog Mountain in the Selway River area.
Memorials may be sent to St. Gertrude's Monastery. Rosary service was held May 8 and the funeral Mass was Saturday, May 9, at St. Anthony's Catholic Church in Greencreek. Burial with military honors followed at Greencreek Community Cemetery. Uhlorn Funeral Home of Cottonwood was in charge of arrangements.