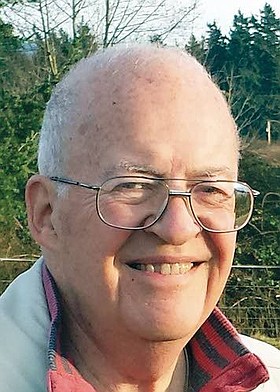 Kenneth L. Anderson
Lewiston, Idaho
May 14, 1938 - May 17, 2015

Ken Anderson, 77, died May 17, in Lewiston, Idaho. He was born to Homer and Ethel Anderson on May 14, 1938, in Borger, Texas. He attended school in Pampa, Texas, where he was the photographer for the high school newspaper, a member of the slide rule club and enjoyed classical music and his train set.
He joined the United States Air Force in June 1956 and was stationed in Turkey for a year. During his four year military tenure, he became a fluent speaker of the Russian language. Ken was honorably discharged and released from active duty in July of 1960.
He then began to pursue his education and ultimately graduated from the University of Texas with a bachelor of arts in history in 1963 and then obtained his master of arts in history in 1965. After passing doctoral exams at University of California Los Angeles in 1968, he became an assistant professor of history (ancient, medieval and Byzantine) at Washington State University in Pullman.
He later decided to embark on his next educational endeavor, where he would discover his passion for helping people. He enrolled in the University of Idaho College of Law in 1975, where he graduated and was admitted to the Idaho State Bar in 1978.
Ken was the prosecuting attorney for Nez Perce County for a short time and then decided to open his own practice in 1978. Helping others has always been the cornerstone of Ken's essence, which is why in 1990 he restricted his practice to bankruptcy. He maintained offices in Lewiston and Grangeville, and helped countless families and businesses in reorganizing their lives toward a debt-free future. Ken was very proud of that.
He was a member of the Commercial Law and Bankruptcy Section of the Idaho State Bar as well as president of North Idaho Debtors' Counsel in Coeur d'Alene. He was an accomplished classical pianist, played classical guitar and participated in Summer Palace Theater at WSU. He also belonged to the Outlook Club for more than 30 years and was an active member of the Lewis-Clark Valley Train Club.
Ken was also an enthusiastic ham radio operator, with call sign KB7IAW. Ken was instrumental in establishing the first repeater tower above Grangeville. Ken not only utilized ham radio for communications with his family and people all around the world, but used his skills to set up and become the area's Skywarn coordinator for the National Weather Service offices in Spokane and Missoula. He and his fellow amateur radio operators were very proud to provide storm spotting and early warning of severe weather.
When not engaged in professional duties, Ken enjoyed family activities including trailer camping, photography, massage, home brewing, model railroading with his grandson Levi, cross-country train trips, storm chasing in his home state of Texas, continuing to brush up his Russian language skills, and sipping on Wild Turkey and smoking an occasional cigar on the observation deck.
Ken leaves behind his wife, Janet Anderson, who is a retired Grangeville Elementary School teacher; two daughters, Stephanie Lathrop (Earl) and Wendy Anderson; two stepsons, David Swisher (Sara Stolz) and Gary Yamamoto (Patty Harris); and seven grandchildren, Kim, Cindy and Daniel Yamamoto, Krista, Olivia and Levi Lathrop and McKenna Anderson (as in "Ken"); and nine great-grandchildren.
A memorial service will be held at 11 a.m. Saturday at the First United Methodist Church, 1906 Broadview Drive, Lewiston, with a catered reception to follow. Sign the on-line book of memories at www.mtviewfuneralhome.com.