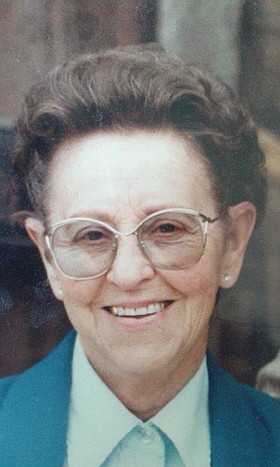 Pearl Elma Holbrook Carey
Payette, Idaho
June 7, 1918 - November 8, 2014
Pearl Elma Holbrook Carrey was born at the Doumecq ranch house three miles southwest of White Bird, Idaho, June 7, 1918, and passed away Nov. 27, 2014, in Payette, Idaho. Her grandfather, John Doumecq, came to Idaho County in 1863 from Paris, France. Mr. Doumecq's homestead, which he took up three miles southwest of White Bird in 1880, was the old Henry Moon Place, once owned by Henry Moon who had suffered death at the hands of the Indians in 1877.
Pearl's mother, Margaret (Maggie) Doumecq was raised in White Bird as well as her father, Jacob Ephrum Holbrook. Pearl was part of six generations to be born and raised in Idaho County.
Pearl graduated from White Bird High School, class of 1937. She worked as a waitress at Della and Jim Flynn's restaurant in Riggins after graduation.
On June 1, 1938, Pearl married her lifetime companion, John Hay Carrey. During 63 years of marriage Pearl and John owned several area ranches. First, Shorts Bar Ranch, then they moved to Cow Creek (Sewell Ranch), then to Shingle Creek (DeVeny Ranch), and finally retired on the White Bird Ridge Ranch near Pollock. Always residing in the Riggins area, this is where they celebrated their golden 50th wedding anniversary.
Pearl was a very good cook and guests were always invited to have a meal with them. No one ever left their home hungry. Pearl's days were spent milking the cow, maintaining a generous garden, and taking care of the business. Whether pulling a calf or putting up hay, Pearl always worked beside John on the ranch. Her home was always clean and work was never left undone. Pearl was always available for family and spent an unmeasurable amount of quality time with grandchildren and great-grandchildren.
Pearl is survived by a brother, Lester Holbrook; one daughter, Dolina Cauline Gill; two granddaughters, Gayle Hagler (Jim Hagler) and Donna Gill; four great grandchildren, John Hagler, Joni Hagler, Courtney Medley and Colton Medley. Several brothers and sisters preceded her in death.
Graveside services will be Sunday, June 7, at 1 p.m. (MST) at the Riggins Cemetery.