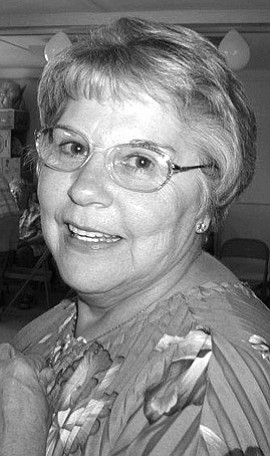 Connie Jean Cochran Sanford
Kamiah, Idaho
January 19, 1949 - May 8, 2015
Connie Jean Cochran Sanford, 66, went to be with the Lord and Savior on May 8, 2015, surrounded by her loving family from a rare degenerative brain disease similar to Parkinson's disease. She was born Jan. 19, 1949, to Dale and Syble Cochran in Grangeville, Idaho, during the worst blizzard in several years. Dale and Syble followed the snowplow all the way to the hospital. She was the youngest of four children. She grew up in the Red Fir and Big Cedar area outside of Kooskia. Mom told us many stories of the antics that going to a one-room schoolhouse brought, and many fond memories of the Reed, Hendren and Brown families, just to name a few. Of course, Mom was always the innocent one. Mom attended Clearwater Valley High School until she decided that she was too cool for school. Granddad had always told her that if she quit school she better have a job when she came home. That is just what she did.
In the summer of 1966 Mom was working at the Lochsa Lodge where she met a handsome loader operator named Earl Sanford, who was building the Powell campground. After a whirlwind romance Dad proposed to Mom overlooking Walton Lakes. That was also the first time that he kissed her. They were married Oct. 1, 1966, in Kooskia with the Rev. Moffett officiating. On Aug. 15, 1967, they welcomed their first daughter, Earleen. In 1968 they moved to Missoula where they welcomed another daughter, Dalene Irene, in March of 1970. Dalene died a few months later. Aug. 3, 1971, they welcomed their third daughter, Cata. In 1972 they moved back to Kamiah, then to Soda Springs, Idaho, for a short time. In 1981 they returned to Kamiah and settled there raising their two daughters.
Mom had many jobs in her lifetime. She was a waitress, bartender, janitor at Monsanto Corp., and even worked on an all-women crew in a sawmill owned by Frank Worthington. She was also a business woman. She has had a gift shop, two ceramic shops, a T-shirt printing business, raised and sold rabbits, a bar and steakhouse and a coffee stand. Connie and Earl owned and operated the Syringa Bar and Restaurant for a number of years. She also owned and operated the Shirt Shack and Ceramic Shop at the same time. They sold the bar and eventually purchased the drive-through espresso stand, Clearwater Coffee. That was the business that made Connie the happiest. She made many loving friends during her years there. People knew her as Coffee Connie. When her health started to decline they sold the coffee shop.
Mom's talents were many. She had an eye for detail and could see something in a magazine that she liked and would then make her own. She sewed, embroidered, did oil painting, ceramic painting, flower arranging, you name it, she could do it. We have many treasures that she has made for the family through the years that we will treasure always. She was always helping people and would do anything for anyone. She went on a mission trip to Mississippi in 2007 to help with hurricane Katrina relief and loved every second of it. Connie loved life. She cherished her two daughters and her six grandchildren, Anna, Mariah, Teresa, Justin, Dale and David. She always made it a point to tell each of them she loved them. She and Earl loved to travel, her favorite place being Hawaii. They took trips to Hawaii, Alaska, and throughout the western U.S. She loved camping and fishing and hunting. Her favorite times were taking the cows into the mountains to range and getting them in the fall with her dad. She cherished her time with family especially when we could all be together for the holidays. She loved Jesus and church, with a special love for the Valley View Nazarene Church.
She was preceded in death by her parents, Dale and Syble Cochran, and daughter, Dalene. She leaves behind her wonderful loving husband of 48 years, Earl; her daughter, Earleen (John) Kowceun of Kamiah; daughter, Cata (Mike) Granger of San Jose, Calif.; grandchildren, Anna (Dallan) Rupp, Mariah (Scott) Marino, Teresa (Brian) Dusel, Justin Granger, Dale Granger and David Granger; and her great-grandchildren, Kaitlin, Kerissa, Kendra and Kassie Rupp, Brooke, Alex and Emily Dusel, and Silo and Scarlett Marino; her brothers, Roger (Donna) Cochran, Bill (Sherrie) Cochran; and her sister, Patsy Williams; and numerous nieces, nephews and cousins. A memorial service celebrating her life will be held in Kamiah on June 13 at the Valley View Church of the Nazarene at 11 a.m. A potluck dinner will follow at the church. In lieu of flowers the family asks donations be made to the Valley View Church of the Nazarene.