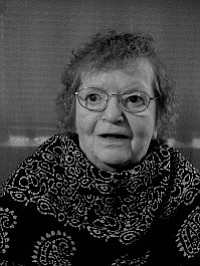 Eloise Oleson
Grangeville, Idaho
March 23, 1929 - May 17, 2015

Eloise Oleson, 86, passed peacefully Sunday, May 17, 2015, at Syringa Hospital in Grangeville, Idaho. She spent her last days surrounded by the love of many of the four generations of her family members.
Born March 23, 1929, to Pauline Kuhn and Alexander Erickson in Monte Vista, Colo., Eloise grew up in the mining and logging communities of southwestern Colorado.
Eloise met Kermit Oleson in California and they were married Feb. 4, 1956, in Los Angeles, Calif. Eloise and Kermit had five children followed by 13 grandchildren and 23 great-grandchildren.
Eloise enjoyed reading fantasy books, and working on crafts such as string pictures, quilting and also working with wood and paint. She also enjoyed cooking and spending time with her family including leading a Cub Scout troop when her sons were young.
A devoted mother, Eloise loved all her family members through the good and tough times in their lives. She was one to always be there for her children as they experienced the ups and downs of growing up. She extended this same love and compassion to her many friends.
Eloise attended the Nazarene Church and loved God. She instilled strong values into her children, teaching them independence and about caring for others.
Even though Eloise dealt with the debilitating physical symptoms of ALS for more than 30 years, she managed to maintain a cheerful outlook on life and bring joy to those around her.
Her favorite hymn was "How Great Thou Art" from which the following passage was taken:
When through the woods and
forest glades I wander
and hear the birds sing sweetly in the trees;
when I look down from lofty mountain grandeur,
and hear the brook, and feel the gentle breeze.
The memorial service for Eloise will be held Sunday, May 31, at 2 p.m. at Grangeville Nazarene Church, 515 West North 2nd Street, Grangeville. Arrangements are under the direction of Blackmer Funeral Home, Grangeville.