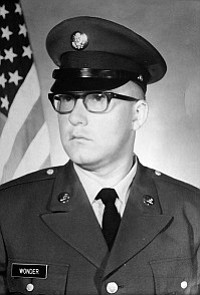 Jack A. Wonder
Grangeville, Idaho
August 8, 1949 - October 10, 2015
Jack A. Wonder, 66, passed away Saturday, Oct. 10, 2015, in Grangeville, Idaho, with his daughter, Cheryl Wonder, by his side. Jack was born in Nampa, Idaho, on Aug. 8, 1949, to Park and Rowena Wonder. He grew up in Council, Idaho, where he graduated from high school in May of 1967.
Jack enlisted in the Army in 1970. He served in the Vietnam War from August 1970-August 1971. In 1976, Jack was honorably discharged from his military services.
After his service, Jack went to work as a truck driver, his life's passion. He started as a log truck driver and moved on to long-haul truck driving. He drove for many companies including B&G Logging, Jack Buell, Bitterroot, Jim Palmer, and Carlisle Enterprises. His greatest feat was driving the ice-roads in northern Alaska for Carlisle Enterprises out of Fairbanks.
Jack belonged to the American Legion and enjoyed helping and visiting with any veteran. During his time off and retirement, Jack enjoyed being out in the woods fishing, hunting, camping and four-wheeling with friends.
He is survived by his sister, Mary Slaathaug of Meridian, Idaho; daughters, Melissa Shaw of Middleton, Idaho, and Cheryl Wonder of Boise, Idaho; three grandchildren, and one great-grandchild. He was a great friend, brother and father who would help you out in an instant. Jack will be greatly missed by all.
Services will be planned at a later date during the spring of 2016 at the Veterans Cemetery in Boise. Arrangements are under the direction of Blackmer Funeral Home, Grangeville.