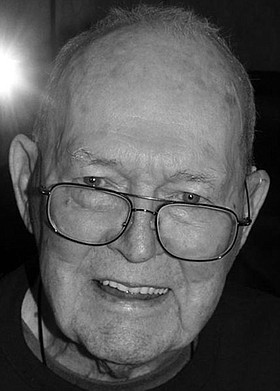 James "Jim" Thomas Ryan
Lewiston, Idaho
unknown - unknown
James 'Jim' Thomas Ryan, 98, of Lewiston, Idaho, died Saturday, Nov. 7, 2015.
Jim was born Jan. 28, 1917, in Seattle, to Bill and Bessie Ryan. The family soon moved to Burns Lake in Canada, where his father was a fur trapper. They then moved to Grangeville and spent summers in the woods, where his father worked as a forest ranger.
Jim graduated from Grangeville High School in 1934. He worked as a fire lookout and as a shepherd to help put himself through the University of Idaho, majoring in botany. The U.S. Navy put him through officer training at Columbia in New York City. As an ensign, he was assigned to a ship stationed in Panama. Later, he signed up with the French Foreign Legion, but luckily a friend rescued him and they joined the Merchant Marines. He started as second mate, moved to first mate and was studying for his captain's papers when he resigned following World War II.
He met his wife, Zoe Allen, in Seattle and married her April 1, 1944, in San Francisco, his regular port of call. The Merchant Marines worked with the Coast Guard to protect the U.S. shores during the war, so he arrived in Pearl Harbor the day after it was bombed. His daughter, Pat, was born in Bellingham, Wash., after the war. They moved to Mount Vernon, Wash., where they ran The Little Rock Lunch, making the best burgers in town. He then worked until retirement at Stacey's Camera Center, where he ran the photo lab. Jim would smile as he said, "Imagine getting paid for what you love to do the most."
He loved photography, gardening, hiking, camping, hunting and practical jokes. After Zoe died, he met Arlene Maxine Warren and moved to Lewiston, where he continued to garden and walk his chocolate lab, Chico, well into his 90s. Jim and Arlene were together for 16 years.
Jim was preceded in death by his parents, Bill and Bessie Craig Ryan; his sisters, Bertha Parks and Mable Atwood; and his brother, Billy Ryan.
He is survived by his wife, Arlene Maxine Warren Ryan; his daughter, Pat Ryan; stepdaughter, Kathy Parsells; and many nieces and nephews.
At his request no services will be held.
We will all miss him terribly.