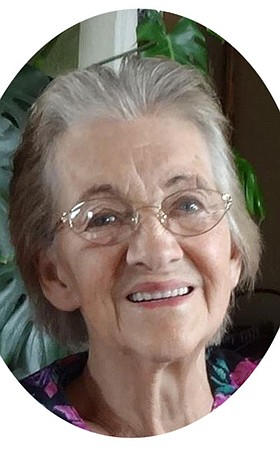 Anna Marie Ross Ahlers
Spirit Lake, Idaho
June 28, 1934 - unknown

Anna Marie (Ross) Ahlers, 82, joined her husband Cleo in Heaven after several months of declining health.
Anna Marie was born June 28, 1934, to Hubert (Coop) Ross and Helen (Simon) Ross in Cottonwood, Idaho. She was the oldest of 14 children. She attended all 12 years of school in the Cottonwood area, was active in band and chorus and was rodeo princess in her junior year. She worked for Idaho County for a short time after graduation before marrying Cleo.
She married Cleo Joseph Ahlers Nov. 28, 1953. They lived near Cottonwood from December 1954 until October 1956, where their two oldest children were born. While reading ads in the "Idaho Farmer" Cleo saw a 240 acre ranch for sale in Hoodoo Valley. They purchased the land for $20,000 and moved in October 1956. The couple started a cattle ranch and was blessed with 10 more children.
Anna Marie and Cleo took pride in their family. They taught us good family values. Hard work and honesty will get you everything you need, and shared their unwavering faith.
Anna Marie was a wonderful lady. She loved to dance and sing. She also had a green thumb and cared for many houseplants and loved to garden.
She liked photography and was always snapping pictures. She was a longtime member of the Hoodoo Valley Grange and was very active in square dancing. She was very social and always welcomed visitors. She was very generous and willing to help others. But most of all she was a wonderful mother, not only to her children but to anyone who came into her home.
Surviving family includes Ed (Sue) Ahlers, Gerry (Diane) Ahlers, Dick (Laura) Ahlers, Kathleen (Patrick) Ashton, Mary (Mark) Heimsoth, Tim (Patti) Ahlers, Bette Irvine, Debbie Ahlers (Mike), Millie (Jim) Livingston, Darlene (Mike) Martin, Ernie (Audrey) Ahlers. Anna Marie and Cleo have 30 grandchildren and 26 great-grandchildren. Anna Marie has three brothers, Bob Ross, Bill Ross, John Ross; and three sisters, Linda Key, Judy Klapprich and Sandy Halbert remaining.
Anna Marie was preceded in death by her husband, Cleo; infant son, Ray; parents, Coop and Helen Ross; brothers, Tim, Tom, Marvin, Harold, Gerald and Don; a sister, Pat; granddaughters, Tammy Ann Ahlers (Ed and Sue), Jean Ann Heimsoth (Mary and Mark); and son-in-law, Mike Irvine (Bette).
Services will be held at St. Joseph's Catholic Church officiated by Father Timothy Ritchey, in Spirit Lake on Oct. 24. Rosary will be at 9:30 a.m. followed by Mass at 10 a.m. There will be a luncheon at the Hoodoo Valley Grange after Mass.
We loved her more than words can ever say, but God loved her too, so he took her away.
Sherman-Knapp Funeral Home in Priest River is in charge of arrangements. Family and friends are invited to sign the online guest book at sherman-knapp.com.