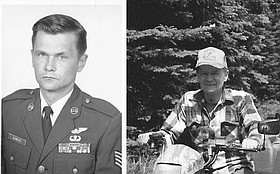 Michael Forest Clements
Elk City, Idaho
unknown - unknown

Michael Forest Clements, 72, of Elk City, Idaho, passed away peacefully after a long illness on Aug. 29, 2015, in Cottonwood, Idaho. He was born in Minneapolis, Minn., June 16, 1943.
He was raised and went to school in the Minneapolis/St. Paul area and joined the U.S. Air Force in 1961. He married his wife at March AFB, Calif., in April 1965. Shortly after marriage, Michael went on his first of two tours to Southeast Asia. His first tour was in-country at DaNang (1965-1966).
Michael's duty position was in the Command Post, command and control, from his tour in Vietnam until retirement. After Vietnam the family moved to Hahn AFB, Germany. In 1969 the family moved to Seymour Johnson AFB, N.C. Two years later they moved to Mountain Home AFB, Idaho. Shortly after arriving in Idaho, Michael served his second Southeast Asia tour flying airborne command post in Udorn, Thailand (1971-1972). After a year, he returned to his family in Idaho, and a year later reassigned to Eielson AFB, Alaska. After two-and-a-half years they moved to Washington, D.C., for his next assignment at the Pentagon where he stayed until retirement in 1981 with 20 years of service.
In 1996, Mike and Jerry wanted to return to Idaho so they moved to Boise, Idaho. In November 2002 they made "one last move" to Elk City, Idaho. Michael became a leader in the Boy Scouts while stationed in Mountain Home. He continued his leadership in troop and committee positions until a year after his retirement. Their older son received his Eagle Scout award at Eielson AFB, Alaska, and their younger son received his Eagle Scout in Stafford, Va. In between his shift schedule, scouting, and whatever else came up, he loved to go fishing and hunting with family and friends.
Shortly after moving to Elk City their life changed. Michael was under the Agent Orange program and in the spring of 2003 he was diagnosed by Boise VA with cancer of the larynx. VA was prompt in following up with surgery and treatment. In 2005 his breathing became worse. In 2009 he was put on oxygen full time. He still kept active until 2011 but by the end of 2012 traveling to Boise became very difficult. Working with his VA doctor and his private physicians at the Cottonwood clinic, he was able to receive support from both but only had to go to Cottonwood for personal visits and any tests. The family is very grateful for the support from Boise VA and physicians at Cottonwood during his last years.
Michael is survived by his wife, Jerry; sons, Michael and William; daughter-in-law, Valerie; granddaughters, Lenor and Morgan; great-granddaughter, Autumn Jade; mother, Marian; brothers, William, Dennis and Lincoln; sisters, Rhonda, Carol, Jan and Barbara. In lieu of flowers, the family asks donations be made in Michael's name to the Vietnam Veterans or the Wounded Warriors.
A memorial service will be held on Oct. 23 at 11:30 a.m. at Sts. Peter and Paul Parish in Grangeville, followed by a graveside service at the Cottonwood Cemetery.
Services are under the direction of Blackmer Funeral Home, Grangeville.