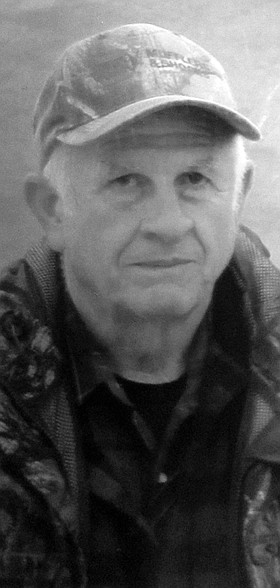 Daniel A. Baldwin
Elk City
February 11, 1944 - October 20, 2015
Daniel A. Baldwin (Cougar Dan), 71, of Elk City, Idaho, died Oct. 20, 2015, on Tahoe Ridge near Kooskia, Idaho, due to an accident with his dozer.
Dan was born Feb. 11, 1944, at the family home on Tahoe Ridge to Frank and Mabel Lyons Baldwin, the eighth of 12 children. Dan grew up on the family ranch with cows to milk, hogs to feed and foods to harvest. He went to elementary school in Kooskia and graduated from CVHS in 1963. He attended Boise Jr. College and LCSC. Dan loved to run and competed in the mile and two-mile events in high school and college.
Dan met Penny Morley at Elk City, and they married June 30, 1967, at Clarkston, Wash. They were married for 48 years and spent 15 retirement years together traveling to Alaska, mentoring grandsons, and enjoying the adventures of life.
A daughter, Jill Ann Baldwin, was born, Oct. 18, 1972, in Grangeville, Idaho. Jill was her dad's hunting and fishing buddy.
Dan taught school for three years in Elk City and Grangeville. He packed and guided for Lloyd Jones and he worked for the U.S.F.S. thinning on trails and packing. He worked as a saw filer at sawmills in Grangeville, Tamarack and Salmon, Idaho. In 1974, the family moved to Elk City. Dan worked for Shearer Lumber and later, Bennett Lumber. He retired from the sawmills in 2000.
Dan was an avid outdoorsman and explorer. He loved his hound dogs, hunting, fishing, snowmobiling, and playing with and mentoring his nieces, nephews and neighborhood kids. He enjoyed learning new things and working hard... he lived life to the fullest! Every season was hunting/fishing season.
He is survived by wife, Penny; daughter, Jill and husband, Mark Wilson; grandsons, Jace and Trevor; five siblings, Violet Kinnick and Elva McFeron of Kamiah, Leonard Baldwin of Orofino, Jeff and Patricia (Gering) Baldwin of Kooskia, and Martha and Gary Goff of Meridian; sister-in-law, Helen (Hunter) Baldwin of Kooskia; brother-in-law, Joe Denham of Elk City; and many beloved nieces, nephews and friends.
He was preceded in death by his parents; his sisters, Linda Denham and Elsie Morgan; his brothers, Jim Baldwin, Leo Baldwin, Norman Baldwin and David Baldwin; sisters-in-law, Claudia, Olive and Kathy; and brothers-in-law, Roy Morgan, Ralph Kinnick, and Hance McFeron.
In Lieu of flowers memorial donations may be made to Elk City Ambulance, P.O. Box 206, Elk City, ID 83525 or Elk City Fire Department, P.O. Box 311, Elk City, ID 83525
Services were held at Trenary Funeral Home Chapel in Kooskia on Monday, Oct. 26.