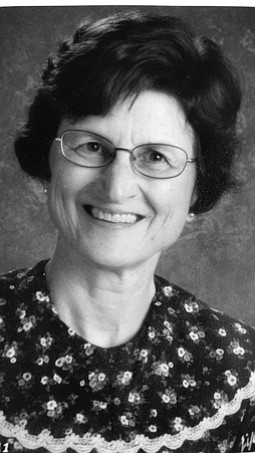 Grace B. Koehler
Twin Falls, Idaho
September 3, 1948 - October 3, 2015
Grace B. Koehler, 67, died peacefully on Oct. 3, 2015, at St. Luke's Magic Valley Regional Medical Center in Twin Falls after a five-month battle with a rare and insidious liver cancer.
Grace is survived by her husband Steve of Wendell; children Toni (Brian) Orth and Abe Koehler (Jennifer) of Boise; grandchildren Taylor and Tyler Orth, and Oliver and Guinevere Koehler; brothers Dave (Susan), Bill (Pat) and Jim (Sandy) Bardes, and foster sister Terri Null, all of Indiana. Grace was preceded in death by her parents.
Grace was born Sept. 3, 1948, in Indianapolis, Ind., to John and Suzanna Bardes. She received a bachelor's degree in elementary education from Indiana University, and in 1973 a master of education degree from the University of Idaho. Grace met Steve Koehler , a geologist, when both were attending Indiana University. The two married themselves on May 22, 1971, at Holcomb Gardens in Indianapolis.
In 1972 they moved to Moscow, Idaho, where both attended the University of Idaho. Moving to Grangeville, Idaho, in 1973, Grace taught at the elementary school until she became a full-time mother beginning with the birth of their first child. Grace was a laboratory assistant in Steve's geology consulting business until the family moved to Wendell, Idaho, in the summer of 1989.
Grace resumed teaching, first a year at Jerome, then at Wendell Elementary School until she retired in 2013. She was awarded the Presidential Award in K-6 science teaching in 1998. Her colleagues knew her as a "teachers' teacher" and confidant.
During her years in Grangeville and Wendell she developed her talents as an artist in woodcarving, pottery, stained glass and painting. At first she painted water colors on paper, but then switched to painting extraordinarily detailed wildlife paintings with acrylics on feathers, which she pursued full time after retirement.
Grace was politically active in the pursuit of truth and justice directed at improving the human condition the world over. She worked as a volunteer in local recycling, supported Habitat for Humanity and Heifer International, and numerous causes directed toward caring for the well-being of wildlife and the environment. She was a longtime supporter of Boy and Girl Scouts and military veterans organizations.
One of Grace's favorite sayings was "Live while you have life to live. Love while you have love to give."
A memorial service is scheduled for 10:30 a.m. Saturday, Oct. 31, at Wendell High School's Gay Petersen Auditorium, where Grace's family and friends will speak and play music. All are welcome to attend and celebrate Grace's life. A potluck lunch will be held afterwards at the American Legion Hall at 610 W. Main in Wendell, where Grace's art will be on display. Call Carolyn Mason at 536-2204 for details. In lieu of flowers, send donations to the Cholangiocarcinoma Foundation at http://cholangiocarcinoma. org/get-involved/donate or to Lynch Syndrome International at http://lynchcancers.com/donate/.