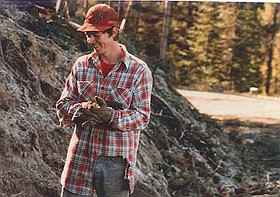 Bill "Wicker" Schmadeka
Grangeville, Idaho
November 25, 1960 - August 28, 2015

Bill "Wicker" Schmadeka, 54, passed away Friday, Aug. 28, after a logging accident in the flood woods of Clearwater County.
Bill was born to Marshall Schmadeka and Georgia Ann Schmadeka on Nov. 25, 1960, at Syringa Hospital in Grangeville, Idaho. Bill, a lifelong resident, grew up in Grangeville with his siblings, Mike Wesley, Vickey Lea, John Taylor, Patty Ann and Kim Rae. Growing up he enjoyed football, wrestling and baseball. He graduated from Grangeville High School in 1979.
Bill began logging at age 10 with his father and brothers and continued to log the rest of his life. He used to say his favorite things were watching the sunrise, the smell of diesel and the sound of CATS starting. He was an equipment man and could run almost anything on the job (using the "Wicker Dictionary" when appropriate).
When he wasn't logging, Bill loved to fish for sturgeon and catfish at Rock Bar (where he, coincidentally, spent many nights sleeping on rocks). He passed this tradition on to his children, not just the fishing, but the "rock camping" as well. He took his sons hunting annually. He taught his boys not to trophy hunt, but to put meat on the table for their families.
Family was something Bill cared very much for; his children and grandchildren were the joy of his life. He was always willing to help someone, and would give the shirt off his back.
Bill was preceded in death by his father, Marshall; his brother, Mike; his daughter, Amanda; and his brother-in-law, Kim Allen Gini. He is survived by his mother, Georgia; brother, John; sisters, Vickey, Patty, Kim; his six children, Danny, Tel, Seth, Kaitlin, Jessie Brooks, Tyler McDade; 13 grandchildren and his fiancé, Tammy Hartman.
A graveside memorial will be held Friday, Sept. 4, at 2 p.m. at Mt. Idaho Cemetery with a potluck dinner at the Eagles to follow. The family will be wearing hickory shirts in honor of Bill and invite you to join them. Funeral arrangements are being handled by Blackmer Funeral Home.

Services for Bill Schmadeka
September 4, 2015

Graveside service: 2 p.m.