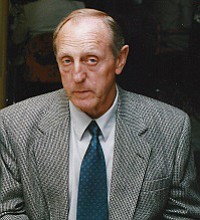 Robert "Bob" Walter Kinzer
Grangeville, Idaho
July 24, 1934 - August 30, 2015

Robert "Bob" Walter Kinzer, 81, passed away Aug. 30, 2015, with his wife at his side. He was born in Van Nuys, Calif., on July 24, 1934, to Walter and Katherine Kinzer. He was one of six children. His family moved to Ferdinand, Idaho, when he was a young boy. He attended school in Ferdinand, worked for Hoene Implement during high school and went on to serve in the U.S. Army from 1953-1955. He was stationed in Germany.
After the service he attended college at Idaho State University, where he met his wife, Carol Ann Mollerup. They married July 25, 1959, and moved to Grangeville in 1960. He continued his employment with Hoene Implement until 1985 while raising their four children. He then went on to drive logging truck and own his own business. He was always young at heart and never officially retired. He enjoyed traveling with his family throughout the United States, water skiing, camping, coaching and playing basketball, and spending time with his grandchildren. He was quite often a Good Samaritan going out of his way to helping others in need in the community and on the highways he traveled.
Robert was preceded in death by his parents, Walter and Katherine Kinzer; his brothers, Cornelius and Urban Kinzer; and his sisters, Dorris Kuther and Yvonne Pagel. He is survived by his wife, Carol Kinzer of 56 years of Grangeville; sons, Kirk and wife, Andrea Kinzer of Lewiston, and Kraig and wife, Becky Kinzer of Meridian; daughters, Kristin and husband, Mike Hauger of Grangeville, and Kim Petrie of Lewiston; 12 grandchildren; two great-grandchildren; and his sister, Sylvia Forsman of Cottonwood.
Funeral services will be Friday, Sept. 4, at 10:30 a.m. at Sts. Peter and Paul Church with burial to follow at Prairie View Cemetery, Grangeville. Friends may call Thursday, Sept. 3, from 4-6 p.m. at Blackmer Funeral Home. Send condolences to the family to Blackmerfuneralhome.com.