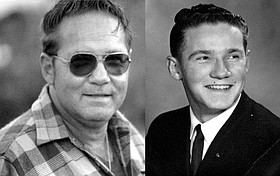 Sydney "Butch" Keith Walker
May 18, 1943 - September 3, 2015
Sydney Keith "Butch" Walker, 72
Grangeville, Idaho
Sydney Keith "Butch" Walker of Grangeville, Idaho, died on Sept. 3, 2015, at Syringa Hospital in Grangeville.
He was born on May 18, 1943, in Ontario, Ore. Butch was the son of Sydney William and Helen D. Walker.
In 1952, the family, which included his sister, Jean, moved to Grangeville, where his father started a garbage route in 1953, on a part-time basis. This soon became a full-time job.
At a very young age, Butch started working for his father before and after school. He bought his first car, at age 14, with the money that he had earned.
Butch graduated from Grangeville High School in 1961. He attended both Treasure Valley Community College and Boise Junior College, earning degrees in education and general studies. He was a few credits short of earning an accounting degree when he returned home to help his father with the family business.
Butch was a member of the Oregon National Guard - Armored Cavalry Unit.
While returning from a Guard weekend, on a motorcycle, he hit a cow at 70 miles an hour.
With both arms in casts, Butch still managed to drive a garbage truck and lift cans. It was during this time that he met Dorothy Dasenbrock. After a year's courtship, on Nov. 25, 1967, they were married. The first car that they purchased, as a couple, was a 1968 GTO.
Throughout his life, Sydney "Butch" accomplished many things.
After purchasing land in Idaho County, he designed and built the first "State Approved Landfill" in Idaho.
As a leader in his family's business, Butch continually arose to the challenges and through hard work and determination, he built the garbage company that today is known as Walco, Inc.
Because of the terrain in our area, Butch designed and built a small satellite garbage hauling unit using pickups for those hard to access areas. This helped get service to a lot of individuals in the remote areas of Idaho County.
In our area, the roads are very steep and during the winter, with ice and snow, they can be very slick. For safety reasons, Butch ordered a logging truck cab and had a garbage bed put on it. This was something that had never been seen in the solid waste industry, but it worked.
With all the changes in the solid waste systems, when a transfer station was needed, Butch took on the challenge. He designed and built a transfer station for small garbage companies. This basic design has been used by other companies that were building transfer stations in Idaho.
Butch was a member of the National Guard for many years. He was also a member of the Elks Lodge, the Land Planning and Zoning Committee, and many more organizations. Butch operated a recycling center in Idaho County for 16-plus years. He gave back to the communities that he served in any way that he could.
Butch loved photography and his greatest joy was to take pictures of his children and grandchildren. He captured and recorded their lives through his photos.
Through the years, Butch helped many young men get a start in life. He hired high school students and taught them many skills with on the job training.
Butch is survived by his wife of 47 years, Dorothy Walker; his sister, Jean and Bill Heizer; his daughters, Monica Walker and Marietta and Patrick Holman; his son, Sydney C. (B.J.) Walker; and two granddaughters, Hailey Uhlenkott and Ellie Kouril.
He was preceded in death by his parents, Sydney W. and Helen D. Walker.
Butch will be missed by those who knew and loved him.
Services were held at Grangeville Christian Church on Tuesday, Sept. 8.
Send condolences to the family to blackmer funeralhome.com.