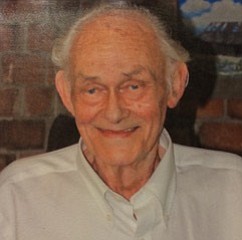 Glen Irvin Wilkins
Slate Creek, Idaho
September 14, 1933 - September 13, 2015

Glen Irvin Wilkins, 81, of Slate Creek, Idaho, passed away Sept 13, 2015, one day short of his 82nd birthday. Memorial services will be held at his family home in Slate Creek, Friday, Sept 18. Family and friends are invited to remember Glen and his kind gentle nature. Charlie Stefani of the Pleasant View Baptist Church will officiate at the services at 1 p.m. (PT).
Glen was born on the Camas Prairie Sept 14, 1933. He lived much of his childhood ranching on the breaks of the Salmon River and Weippe with his family. After serving in the Army where he was stationed in Germany from 1956-1958, he moved to Kamiah where he married his wife, Jeanie, Dec. 1, 1962. He worked as a truck driver and mechanic in Kamiah and Alaska. They later moved their young family to Slate Creek in 1975 where Glen was self-employed as an auto body/mechanic and jack of all trades in the Slate Creek area. He put his many talents to good use at Slate Creek working on cars, helping family and friends, crafting tools, cannons, muzzleloaders, leather, walnut furniture and toys, and designing two log homes.
Glen wanted a large house by the creek so he built two log homes by the banks of Slate Creek. He used one as an auto body/mechanic shop for several years before retiring and remodeling it into a pleasant home for himself and Jeanie in 1989. They were married for 52-1/2 happy and rewarding years. His family enjoyed a comfortable life surrounded by Glen's creative woodworking talents and skilled creations in and around the home.
Glen enjoyed family time and "tinkering" with wood, tools, mechanics and automobiles and antiques. He never found a thing he couldn't fix or build a better one! He even fell, logged, peeled and placed all the logs for his homes by hand.
Glen is survived by his wife, Jeanie (Georgene Maynard Johnson Wilkins); his three children and spouses, Neal, Kevin, Laree, Shaun, Edward; and three grandchildren, Seth, Kaleb and Kaleala; his older brother, Don, of Spokane area; and his older sister, Lola Wilman Chavez of Orofino; and numerous nieces and nephews. Glen was preceded in death by his parents, Lloyd and Rose Wilkins; his brothers, Doyle, Ray, and Gerald Wilkins; and sisters-in-law, Lennis and Lori Helga Wilkins; and brother-in-law, Chuck Wilman. Arrangements are under the direction of Blackmer Funeral Home, Grangeville.