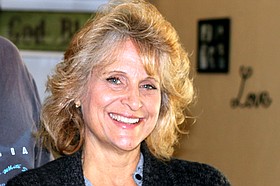 Julie Ann Hitchcock
Grangeville, Idaho
December 5, 1959 - August 29, 2015
After a long and courageous battle, our tough, sweet, little mama was finally able to rest in the arms of Jesus on Aug. 29, 2015, at OHSU in Portland, Ore. Mom started her life in Englewood, Calif., born to Richard and Rose Marie Ketzenberg (Aqcuisto, Gero) on Dec. 5, 1959. She attended Monte Vista High School and graduated in 1978. In 1980 she married her first husband, Mark Vafiades, and during 26 years of marriage, had six children and made a move from Southern California to North-Central Idaho in 1992.
In 2009, she met and married Dave Hitchcock. They went on cruises and adventures and shared a love for fast cars, boats and airplanes.
She was a stay-at-home mom while her older children were young. After moving to Idaho she worked for the Idaho Fish and Game, "clipping fins" at different fish hatcheries around the region for many years. She also worked at the Idaho County Courthouse and Asker's Foods before finally settling in at Syringa Hospital in the records department. It was a job she enjoyed very much.
Mom was an extremely talented crafter who could turn almost anything into something cute. You could always find her tucked away in a little spot she dedicated just for crafting, working on painting something she cut using the scroll saw, or maybe seed-beading an intricate purse or necklace, or most recently, making beautiful handmade cards and gift boxes. No matter what it was, her talent and love for her craft was obvious in every little creation. She also had a knack for re-purposing and could give a second (or third, or fourth) life to even the ugliest, old antiques and make them beautiful. She was a strong, hardworking, funny lady who had affection for chickens, horses, antique shops and her "boys" Rocky and Cooper. But most of all, she had so much love for all of her children and grandchildren. She may not have said it much, but they were her life and legacy and she passed away with all of them around her.
She is survived by her loving husband, Dave Hitchcock; and her children, Jennifer Vafiades, Jill Vafiades, Crystal Vafiades (Mike Thurston), Elizabeth Cole (Doug), Matthew Vafiades (Natazha Howard), Benjamin Vafiades; and stepchildren, Jennay Nafziger (Joe) and Billy Hitchcock (Luz); 12 grandchildren; stepfather, Bob Gero of California; a sister, Jeanne Guajardo of Nevada; and a niece, Michelle Powers of Colorado. She was preceded in death by her mother and father.
A memorial service will be held at the Real Life Chapel in Grangeville, Idaho, on Saturday, Sept. 26, at 11 a.m. A potluck lunch will follow. For any questions or directions, please call Jennifer at (208) 816-6023.
A memorial account for medical expenses will be set up at US Bank.