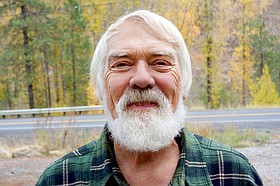 Kerry Scott Tyler
New Meadows, Idaho
January 22, 1951 - unknown
We mourn the passing of Kerry Tyler, 64, of Riggins/New Meadows, Idaho. Kerry was born in Eugene, Ore., on Jan. 22, 1951, and moved to Boise at a young age, where he attended Cole Elementary, Fairmont Jr. High and Capitol High schools. As a child, he was a gifted pianist, performing and composing at the age of 4 and competing in competitions against high school seniors at the age of 7. A highly intelligent and driven person with a remarkable memory, he excelled at most anything he set his mind to.
He trained for the Olympic ski team in high school, and placed third in the NW in slalom and downhill. He continued his musical pursuits, performing in bands with friends and composing his own music.
He was married to LeeAnna Pattan in 1969 on Balboa Island, Calif., after enlisting in the U.S. Marines. He was stationed at Camp Pendleton, and later overseas in Fuji and Okinawa, Japan. He served under the first and only All-Idaho State Platoon - recognized in the Idaho Military History museum - and was honorably discharged after four years of service with meritorious mast. He attended LA Baptist and Western Baptist Bible College, pursuing his life's passion of biblical/pastoral studies.
He moved around in Oregon, California and Wyoming - eventually settling again in Idaho to raise his four daughters, and continuing to pursue his passion for the church and his music. He produced a CD of his faith-based compositions, which will continue to deeply move many people. He worked as a sawyer and was a talented hooker under multiple high lead and jammer crews around Idaho such as Brown, Ikola and Robinson.
He was preceded in death by his parents, John W. Tyler and Janice M. Cady; and his beloved stepparents, Gerald and Nell Pattan. He is survived by his loving wife, LeeAnna; his four devoted daughters, Shay, Nicol, Lorena and YaVonna; his cherished grandchildren, Haydn, Roshan, Marlana and little Scottie; and his dear sisters, Kim, Meg and Mickey.
A memorial will not be planned for several weeks. For now, we welcome all to visit Carepages.com, search name "TylerFamily", where you may post condolences and track the status of the eventual memorial to be held in Riggins, Idaho.