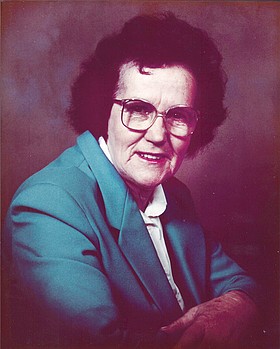 Lola May Finnell
Kooskia, ID
November 6, 1927 - September 9, 2015

Lola May Finnell, 87, passed away peacefully on Sept. 9, 2015, from complications of a stroke. She was the oldest daughter born to Thomas J. Griffith and Myrtle Cora (Wells) Griffith, on Nov. 6, 1927, in Emmett, Idaho, and was raised in the Ola, Idaho, area.
She married Clarence F. Finnell on June 9, 1955, in Winnemucca, Nev. Until Clarence's death on June 17, 1975, they made their home in the Idaho County area raising seven children. During this time she did several jobs including, working with cedar products, picking fruit, packing and guiding hunters up the Selway Bitterroots and even as a gas attendant at the Eighth Over Station in Kooskia, Idaho.
In the late '70s her and her companion, Don Lambertsen, started a lodge pole business until his death in January of 1993 at which time she retired.
Preceding her in death were her parents; husband, Clarence Finnell; companion, Don Lambertsen; and brothers, Baby Griffith, Bud, James, Albert; sister, Darlene Sterling; and grandson, Jacob R. Finnell.
She is survived by her brother, Don Griffith of Leavenworth, Wash.; sister, Francis Griffith; and sister-in-law, Sherrie` Griffith of Emmett, Idaho; children, Clarence William (Bill) of Anchorage, Alaska, Glennella, Thomas (Cathrine), Bruce (Sheila), Kathy, Barbara (Eugene) and Franky (Cece) all of Kooskia, Idaho; 18 grandchildren and 14 great-grandchildren.
Inurnment will be at Pine Grove Cemetery on Sept. 19, at 1 p.m. with a potluck dinner to follow in celebration of her life at the Kooskia City Park. Please bring your own place setting, drinks, side dish and a dessert. Meat will be provided by the family.
In lieu of flowers, donations can be made in her name at the Kamiah/Kooskia Community Credit Union to help defer funeral costs or to a charity of your choice.