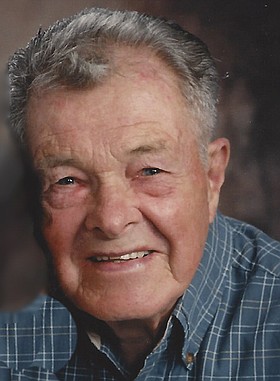 Paul Albert Johnson
Kamiah, Idaho
August 14, 1918 - September 13, 2015
Paul Albert Johnson, 97, of Kamiah, Idaho, died Sunday, Sept. 13, 2015, at Clearwater Health and Rehab in Orofino, Idaho. He was born Aug. 14, 1918, in Helena, Mont., to Albert "AR" and Sadie Soward Johnson. Paul was soon joined by two younger brothers, Robert and Lloyd.
He graduated from the high school class of 1937, in Thompson Falls, Mont., and went to work for the Northern Pacific (NP) Railroad. While working for the NP he met a telegraph operator, Dorothy "Abbie" Clark. He entered the Army in June 1944 and while training at Camp Gordon Johnson in Florida, Abbie traveled by train and they were married in Tallahasse, Fla., on Sept. 30, 1944. He was then stationed at Yokahama, Japan, and Taclabon, Philippines, as an electric welder in ship repair.
After the service he returned to work for the NP where he and Abbie lived in an outfit car which was a rail car converted to living quarters. Their eldest son, Greg, was born in June 1948 and after moving to 13 different locations in 18 months for the railroad, it was time to find a permanent job location. He went to watch repair school at NIJC in Coeur d'Alene, Idaho, where their second son, Neal, joined the family in May 1951.
After graduation, Paul went to work for Servatius Jewelry in Orofino. While in Orofino he was active in the Orofino Volunteer Fire Department. In 1960 Paul and Abbie purchased Jarty's Jewelry in Kamiah, and renamed it Johnson's Jewelry which they operated until 1984.
After retirement Paul and Abbie enjoyed the outdoors including camping, riding four-wheelers, their houseboat on the lake and going south for the winter which to them was going to McCall and downhill skiing. They also enjoyed their family cabin, Johnson's Little Jewel, on Mallard Creek near Dixie, Idaho, which has become the favorite recreation place for the kids, grandkids and great-grandkids.
He was an active member of the Kamiah community having just receiving his 75-year pin from the Kamiah Masonic Lodge, a member of the Kamiah Chamber of Commerce for more than 50 years and a long-time member of the Kamiah Kiwanis. He served on the loan committee for the Kamiah Community Credit Union for several years. He believed in giving back to the community that had been so good to him.
He was preceded in death by his parents, AR and Sadie; his brothers, Robert and Lloyd; and his beloved wife of 70 years, Abbie. He is survived by his sons, Greg (Donna), Neal (Jeannie); and four grandchildren, Tracy (Darin) Tucker, Brian (Sarah) Johnson, Jodi (Mike) Reidy, Jason (Kristy) Johnson; and nine great-grandchildren, Savanah, Stephanie and Ryan Tucker, Jenna and Hanna Johnson, Paige and Dylan Reidy and Kole and Carter Johnson; his brother-in-law Philip, (Mary) Clark; and sister-in-law, Jean (Bill) Sage; and numerous nieces and nephews.
A celebration of life was held Friday, Sept. 18, at St Catherine's Catholic Church in Kamiah.
In lieu of flowers, memorials can be made to the Kamiah Ambulance Service, P.O. Box 951, Kamiah, ID 83536 or the Kamiah Fire Department, P.O. Box 993, Kamiah, ID 83536
Arrangements were entrusted to Trenary Funeral Home of Kooskia, Idaho.