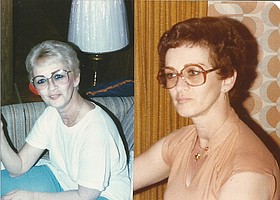 Sharon Lea Voves
Grangeville, Idaho
June 27, 1939 - August 5, 2015

It is with deep sadness that we announce the departure of our beloved Sharon Lea Voves, 76, from this life to the Lord above on Aug. 5, 2015. She was born June 27, 1939.
Sharon was a free spirit who lived life fully. Before settling in Grangeville, Idaho, she lived in Springdale, Kennewick and Edmonds, Wash., as well as Tennessee. Sharon was a gifted piano and organ player who played by ear for several churches and taught Sunday school in Kennewick, Wash.
Sharon was one of those rare animated individuals who loved unconditionally. So young at heart, the neighborhood children would routinely visit her just to be near her unselfish love. Sharon was an accomplished seamstress who enjoyed crocheting, woodworking, quilting and crafting. She last worked at the Camas Café, and did alterations from home.
Always kindhearted, Sharon fostered and adopted many animals throughout her lifetime. She is survived by her life partner of 20 years, Kevin Nielsen; her sister, Pat Suhr; and many relatives residing in Washington and Idaho.
We would like to express our deepest appreciation to Sharon's closest friends who consistently stood by her side and the staff at Syringa Hospital and Hospice who worked hand in hand with her loved ones to care for her.
A celebration of life was held on Monday, Aug. 10, at Holy Trinity Episcopal Church in Grangeville with the Reverend Chris B. Hagenbuch officiating. At her request, Sharon was laid to rest alongside her parents at Grangeville Cemetery. In lieu of flowers, please give donations to the Sharon Lea Voves Memorial Fund at Pine Tree Credit Union.