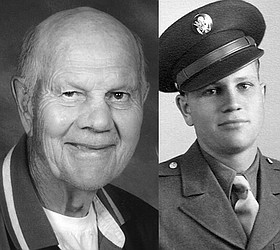 Wilfred Willie Jerome Frei
Ferdinand, Idaho
May 16, 1922 - September 17, 2015
Wilfred Jerome Frei, 93, of Ferdinand, Idaho, died peacefully at his home on Sept. 17, 2015, from complications of Parkinson's.
Willie was born in Ferdinand to Clem and Philomena Frei on May 16, 1922, (11th of 15 children). He grew up on his dad's farm helping with haying, thrashing wheat and working with horses. After graduating from Ferdinand High School (1941), Willie was drafted into the U.S. Army (1942-WWII) where he worked as a medic.
On Sept. 19, 1950, Willie married Emelia Stubbers in Greencreek, Idaho, and they established their farm in Ferdinand. He died two days before their 65th wedding anniversary.
Willie and Emelia raised their seven children on their farm with Willie working in farming, dairying and carpentry. He built multiple homes on the Camas Prairie with his last housing projects involving building and remodeling homes for his two sons who live in Ferdinand. At the age of 70, he helped lay the bricks around the current Ferdinand Parish Hall. His proudest accomplishments were his children: a farmer, a dairyman, a chemical engineer, three doctors and a veterinarian.
He is survived by his wife, Emelia; four sons, Allen (Raina), Virgil (Rose), Patrick, all of Ferdinand, and Gary (Vickie) of Bend, Ore.; two daughters, Virginia (Steve) Kovarik of Rapid City, S.D., and Susie (Dave) MacPherson of Deary, Idaho; 20 grandchildren and seven great-grandchildren; brother, Ray of Lewiston, Idaho; sister, Aggie Haener of Grangeville, Idaho; and foster sister, Dorothy Hansen of Ferdinand.
He was preceded in death by his daughter, Debbie; parents, Clem and Philomena; brothers, Lawrence, Johnnie, Albert, Alphonse, Vincent and Hubert; sisters, Christina, Zeta, Phil, Clemy, Elsie and Mary.
The Rosary will be at 10:30 a.m. followed by the funeral Mass at 11 a.m. on Wednesday, Sept. 23, at Assumption Catholic Church in Ferdinand. Burial will immediately follow at the Ferdinand Cemetery. Uhlorn Funeral Home is in charge of arrangements.
In lieu of flowers, please send donations to the Ferdinand Parish Hall.