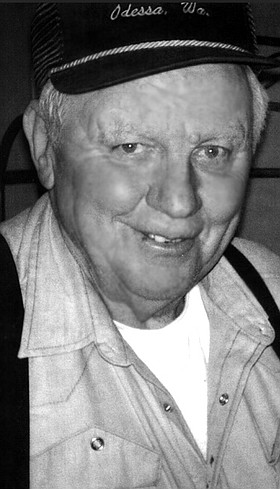 Howard James Arlt
Stites, Idaho
April 12, 1929 - April 16, 2016
Howard James Arlt passed away peacefully at home surrounded by loved ones on April 16, 2016, in Stites, Idaho.
He was born on April 12, 1929 on the family farm in Ritzville, Wash., to Lydia Kramer Arlt and Karl Arlt.
After moving to Rosalia, Wash., in 1947, he met his wife, Jessie Hodgen, and they married Nov. 9, 1949.
He farmed in the Rosalia area for several years, and also did construction work. His first three children were born during this time. In 1958, his young family moved to the Plummer/Worley area in North Idaho. He continued to farm and also worked for the City of Plummer. It was during this time that his two youngest children joined the family.
In 1969, Howard and his family moved to Stites, Idaho, so he could work for his stepfather, Bernie Owens, who owned the Stites Shake Mill. It was after moving to the Clearwater Valley that Howard developed his love of the Idaho back country. He hunted, fished, and packed into the backwoods with his own pack string of horses and mules.
Howard also joined the Back Country Horsemen, and helped build trails along with performing many service projects with the BCH over the years. Howard always enjoyed being the camp cook during his back country adventures, especially when he was with his close friends and family on Nellie Mountain.
Howard served the City of Stites for many years, serving as councilman and mayor for more than 30 years. During this time, he performed many of the town maintenance duties himself. He also served on the Board of Directors for the Kamiah Credit Union, and was also a lifetime member of the NRA.
Howard is survived by his devoted wife Jessie: they would have been married 67 years this fall. They had five children – daughters Patricia (Gale) Akers, Beverly (John) Buckmeier, Linda Arlt, Nancy (Wade) Fehlman, and son Jeff (Cindy) Arlt. Howard's daughter Patricia passed away in March of this year after a courageous battle with cancer.
Per his request, there will be no service. In lieu of flowers, donations can be made to ICARE Cancer assistance of Orofino (http://www.icarehelps.org/) or Syringa Hospital Hospice (http://www.syringahospital.org/hospice.html).
Howard's family would like to thank all of the friends and family who assisted Jessie and Howard during Howard's recent illness. A special thank you to Gail Robinette Pottala, who lovingly cared for Howard and Jessie both in recent years.