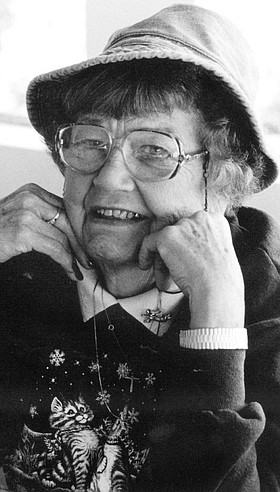 Kathryn "Katie" Ann Fouste
Pasco, Wash.
April 24, 1923 - April 4, 2016

Kathryn (Katie) Ann Fouste was born in Pasco, Wash., April 24, 1923, to Carlton and Marion Holt. Her father, in haste, incorrectly recorded her birth name as Catherine Barnes Holt.
She died on April 4, 2016 in Hillsboro, Oregon; three weeks shy of her 93rd birthday.
In 1925, the family moved to Grangeville, Idaho, where Katie graduated from Grangeville High School in 1941. She briefly attended the University of Idaho before graduating from Lewiston State Normal School in 1943. After graduating from LSNS, she moved to Portland, Ore., and began her teaching career in Vanport, Ore. She met her husband, Bill, at a YMCA volleyball game. They were married in Grangeville in 1947.
Katie and Bill built a house in the Garden Home area next to the Whitney Canning Company (now the Old Market Pub & Brewery). After one more year of teaching, Katie started raising the first of her three children.
In 1953, Katie and Bill traded their house in Garden Home for a variety store in Garibaldi, Ore. Katie helped Bill operate the B&K Variety store until they closed the business in the early '60s. In 1967, Katie resumed her teaching career while attending Oregon College of Education during the summers. Katie finally received her B.A. degree in 1973, at the age of 50. She was proud of that accomplishment and joined the American Association of University Women. She was also an active member of the Garibaldi United Methodist Church, and then later, the Bay City United Methodist Church. She retired in 1985 from teaching first grade at Garibaldi Grade School.
Katie and Bill enjoyed many years of traveling in their motor home around the US and Canada. In later years, they enjoyed spending the winter months in Hemet, Calif.
Katie moved to Hillsboro, Ore., after the death of her husband, Bill, in 2011. Katie is survived by her son, William C. (Jane) Fouste of Beaverton; daughter, Suzanne Steward of Portland; son, David (Laura) Fouste of McMinnville; brother, Burton Holt of Emmett, Idaho; four grandchildren and two great-grandchildren. She was preceded in death by her brothers: Robert, George, and Charles Holt; and her sister, Margaret Fabian.