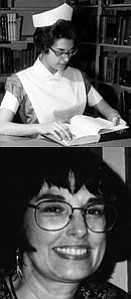 Carolyn Norma Davis Buron
June 7, 1944 - April 22, 2016
Carolyn Davis Buron, 71, of Marysville, Wash., passed away peacefully at Northwest Hospital in Seattle, Wash., surrounded by family, April 22, 2016, after a long illness.
She was born at home June 7, 1944, to John S. and M. Madeline Davis in Morrisville, Penn. Carolyn was a graduate of Morrisville High School class of 1962 and Mercer Hospital's School of Nursing in Trenton, N.J., in 1965. She received an advanced nursing degree from Univ. of Pennsylvania in 1966. She began her nursing career in Trenton, working in a physician's office and later worked at Carrier Clinic in Princeton, N.J.
She met and married her husband of 50 years, Gerard (Jerry) Buron in 1967. In 1969 they moved to rural Idaho where they began their family and lived for 18 years. She worked at Syringa Hospital for 18 years. In 1987 the family relocated to Marysville, Wash., until her death.
Carolyn was preceded in death by her father, John; mother, Madeline Davis; and an older sister, Eleanor.
She is survived by her husband, Jerry, at the family home in Marysville, Wash.; and her two sons, Brian G. Buron (Ingrid), Gregory J. Buron (Jenny); and two grandchildren, Max and Ali; sisters, Virginia Huff (Walter), Sarasota, Fla., Bobbie Foutty (Paul), Morrisville, Penn.; and her brother, William Davis, Morrisville, Penn.
Carolyn was a kind and loving person who will be sorely missed by all who knew her. Her life centered upon her family, many friends, and after retirement her jewelry making and jewelry design.
A celebration of Carolyn's life is being planned for mid-June.