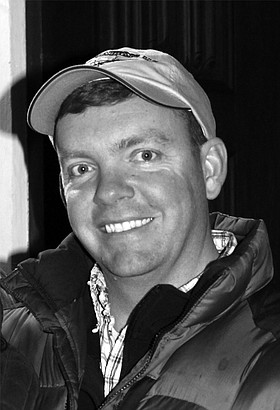 Chad M. Frei
Grangeville, Idaho
August 11, 1976 - April 23, 2016

Chad M. Frei, 39, of Grangeville, Idaho, died April 23, 2016, as the result of a vehicle accident. He was born Aug. 11, 1976, in Cottonwood, Idaho, the oldest of four children, to Mike and Jana Frei. He attended Sts. Peter and Paul School and graduated from Grangeville High School in 1994. He attended the University of Idaho and then began running his first flying business, Grangeville Flying Service, in 1997. He obtained his pilot's license that year and began his flying career. He flew for McCall Air Taxi as their youngest backcountry pilot and also worked for Valley Air Service, working his way into an aerial applicator position. After flying many years for Valley Air Service, he bought the Grangeville satellite business and built it into Frei Aviation. He worked the spring season on the Camas Prairie and flew the summer months in Burley, Idaho.
During his childhood he enjoyed camping with his family, exploring the outdoors with his siblings and cousins, and riding horses. He shared this love of the outdoors and horses with his daughter, Claire ,when he purchased her a horse on her 8th birthday. Chad's love for adventure included a CJ7 Jeep, which his daughter, Emily, spent many hours riding along with the top down.
In 1996 he married his high school sweetheart, Jayci Hill, and they had four beautiful children, Josh, Nathan, Claire and Emily. They vacationed to places like the San Juan Islands, Victoria B.C., the Oregon and California coast, as well as many back country trips in his Cessna 180.
He will always be remembered for his love of aviation and his outstanding ability to fly. Chad passed on his love of aviation to his son, Josh, and taught him to fly at the age of 16. For Josh's 17th birthday Chad watched him solo and later completed his private pilot check ride in the Cessna 180. He enjoyed ski plane flying throughout the winter and making videos with Josh.
Most of all, Chad will be remembered and loved by all who knew him for his outgoing personality and genuine love and care for others. From the people who worked with him, to those who knew him as a friend or even just as an acquaintance immediately felt this personal interest Chad had for them. Chad will be so missed by everyone who knew and loved him but especially by his family. Chad loved getting together as family and he added so much love and excitement to these events. We love you so much, Chad.
He was involved in the Pacific Northwest Aerial Applicators Alliance as president, and a member of the board of directors. He also served on the Sts. Peter and Paul School and Parish Board and was active in the Knights of Columbus.
He is survived by his wife, Jayci; children, Josh, Claire and Emily at their home in Grangeville; parents, Mike and Jana Frei; siblings, Russ Frei, Kristin (Cody) Black, Alex (Margaret) Frei; brother-in-law, Matt Hill; and in-laws, Mike and Shelly Eimers. He was preceded in death by a son, Nathan; grandparents, Cecil and Cora Earp, and Al and Caroline Frei of Grangeville.
A visitation will be held Friday, April 29, at the Blackmer Funeral Home from 4-5:30 p.m. and a Rosary to follow at 7 p.m. at Sts. Peter and Paul Catholic Church. The funeral services will be held Saturday, April 30, at 10:30 a.m. at Sts. Peter and Paul's Catholic Church with Reverend Bradley Neely officiating. Burial will follow at the Prairie View Cemetery in Grangeville. Donations can be made to Sts. Peter and Paul Catholic School. Arrangements are under the direction of Blackmer Funeral Home of Grangeville. Send condolences to the family at blackmerfuneralhome.com.