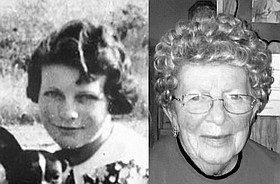 Betty June Wadley
Grangeville, Idaho
December 1, 1919 - July 29, 2016
Betty June Wadley, 96, of Grangeville, Idaho, passed away peacefully July 29, 2016, with family by her side.
Betty June was born Dec. 1, 1919, in Grangeville, Idaho to John and Myrtle (Howard) Mundt. She graduated from Grangeville High School in May 1937, and the following January she was employed by the Farm Security Administration. Not long after that, she met the love of her life, Travis Wadley. They were married July 4, 1939, in Grangeville. Travis passed away Aug. 7, 1995. In May of 1942, they moved to Seattle and Travis joined the Army. While he was in the service, she moved to Spokane where she was employed by the Adjutant General's Office at the Spokane Air Technical Service Command. When Travis returned from the service, they returned to Grangeville. Betty June began working at the Bordeaux Insurance Agency in January of 1950 and continued to work there for the Haynes Agency, Solberg Agency and Solberg-Gerrard Agency. She retired in February of 1975.
After retiring, she and her husband spent the winters in Mexico and Arizona. She loved gardening, camping, shelling and crafts. From grandchildren to great-great-grandchildren, she was a dedicated fan of each of their school activities. She thoroughly enjoyed supporting each and every one of them.
She is survived by her two daughters: Vickie Peterson and Teri (Mike) Murphy both of Grangeville; several nieces and nephews; three granddaughters: Heather Peterson (Shawn) of Bonney Lake, Washington, Megan Murphy (Gus) of Grangeville, Idaho and Molly Eller (Cory) of Asotin, Wash; four great-granddaughters: Cassi Lockett (Stan) of Cottonwood, Idaho, Dani Hall (Brett) of Potlatch, Idaho, and Mikaela Klement and Kate Turner both of Grangeville; and four great-great grandchildren: Justin, Delanie and Kaylie Lockett and Lane Hall. Betty June was also excited to know she had two more grandbabies on the way.
She is preceded in death by her beloved husband, Travis; her parents, John and Myrtle Mundt; sister and brother in-law Phillip and Maxine Labaree; and her granddaughter Wendi McNeilly.
A memorial service is planned for Friday Aug. 5, at 11 a.m., at Blackmer Funeral Home. Betty June requested memorials be made to the Syringa Hospital or Elks Rehabilitation Center in lieu of flowers.