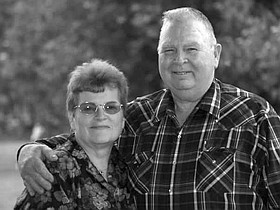 Dawn L. Clopton
Kamiah, Idaho
June 21, 1943 - August 27, 2016

Mom came into this world June 21, 1943 as her older sister Glenda's third birthday present. She was born to Herman and Mildred McDougal Graham and joined three siblings; Norman, Gloria (passed away as a child), Glenda and later Sandy. They were all raised in Grangeville, Idaho. 
Mom met the very handsome and daring Duane Clopton in high school and her heart was his for the next 55 years. They were married straight out of school, Sept. 10, 1961. Daren came along a year later followed by Diana then a few years later Danielle. After moving around a bit in Nevada and Oregon, Mom and Dad settled in Kamiah, Idaho, in 1973. 
Mom stayed home with her children until we were old enough to take care of ourselves, then she went to work for Moxley's Furniture, the Kamiah Clinic and then Cloninger's where she retired after 18 years.
Mom and Dad belonged to the Jaycees, the fire department and the EMTs. I say both because even though only one may have joined, it becomes a family effort. Later they became a part of the local Snowmobile-ATV club. You could always find Mom zooming down Highway 12 on her four-wheeler with a cab heading to or from work up until she retired. The little old lady from Pasadena had nothing on Mom!
Mom was never happier than when she was holding a baby so her children provided her with seven grandchildren to cuddle. Daren and Shirley (Metcalf) gave her Brandy and Lee; Diana and John Schmidt gave her Jeremy and Chandra; and Danielle gave her Ryan, Courtney and Crista. Brandy and Chandra then gave her two great-grandchildren: Allison Dawn and Ian.
Mom battled cancer for more than 20 years. She showed us courage, strength and grace through it all. She finally lost her fierce battle Saturday, Aug. 27, 2016 and went to be with the Lord.
Mom had three vices — her hidden chocolate chips, boxed White Zinfandel wine and being frugal — so on that note we must end this because we promised to keep it short and sweet even though we could go on for a novel telling you how wonderful our Mom was.
She was preceded in death by her parents and her three sisters.
Visitation for friends and family will be Thursday, Sept. 1, 2016, 5 to 8 p.m., at Trenary Funeral Home.
Mom's life celebration will be Friday, Sept. 2, 2016, at 11 a.m., at Trenary Funeral Home in Kooskia, Idaho, with burial at the Kamiah Cemetery and dinner to follow at the fire hall in Kamiah. In lieu of flowers a donation to the Kamiah EMTs or fire department would be appreciated.