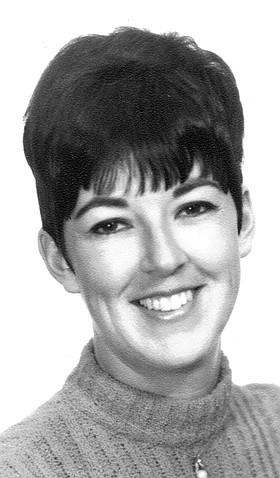 SueAnne Gruell
March 2, 1938 - November 6, 2016
SueAnne Gruell, 78, of Riggins, Idaho, died peacefully on Nov. 6, 2016. SueAnne was born in Elko, Nevada, on March 2, 1938, the oldest daughter of Charles A. Sewell and Orene H. Sewell.
During high school, she was involved in athletic activities, although her real passion was showing her big palomino, Jimmy, in the bridle and stock horse classes at the Elko County Fair, for which she won several trophies. She loved spending time at the family ranch in Riddle, Idaho with her father and brother. She had many chores at the ranch including helping the cook to feed the crew, washing dishes, and taking inventory at her grandparents' store but the one she enjoyed the most was halter breaking the new crop of foals each year. Many of her most fond memories were of her time spent at the ranch.
She attended Stanford University from 1956-1959 and graduated with a degree in sociology. In June of 1959, she married Bruce Strathearn of Simi Valley, Calif. They had two daughters: Allison and Kimberly.
She was an enthusiastic supporter of her daughters in all their horse-showing activities. SueAnne learned to fly in the early 1960s and earned her private pilot's license. She piloted and co-piloted the family plane for several years shuttling the family to and from various places. She also loved to travel. She ventured to the USSR the first year it opened for tourism. She shared her love of travel with her daughters, planning trips to San Francisco to see the Tutankhamun exhibition, a bicentennial trip to Washington, D.C., and Hawaii as well as international trips to Spain, Portugal, Mexico, England, Ireland, Scotland, Wales, Costa Rica and Turkey. During her residence in Simi, she was also very active in the fund-raising arm of the Children's Home Society.
On Aug. 5, 1977, SueAnne married her second husband, Jack Gruell. In 1983, they moved to Riggins where they built their dream home on the Main Salmon River. Her time in Riggins was spent being very active in community affairs. She served on the election board, as treasurer of the Salmon River PTA as well as on the fund-raising and scholarship committees, in PEO, in Rebekahs, and in American Legion Auxiliary. In addition, she wrote the first tourism grant for Riggins and served on the Idaho County Fair Committee.
SueAnne was very skilled in knitting, crocheting, sewing and quilting and often brought home first- and second-place ribbons from the Idaho County Fair. In later years, she was asked to be a judge for some of the handicrafts categories. SueAnne and Jack enjoyed hunting, fishing, camping and were avid gardeners. Both loved making prize-winning wine and tending the garden. SueAnne was nicknamed "The Canning Queen" because she loved spending her summers canning the bounty from their large and prolific garden. She also enjoyed playing weekly bridge with friends.
During her 78 years, she symbolized all that is positive about her generation: a loving companion to her late husband, Jack; a deep commitment to her two children; a wonderful homemaker, including baking great pies; and serving her community. SueAnne was very patriotic and loved our country. Her love of family, friends and animals was matched by no other. She was a true gift to all who knew her.
SueAnne is survived by her two daughters: Allison Strathearn of Apache Junction, Ariz., and Kimberly Strathearn of Caldwell, Idaho; a brother, Steve Sewell of Seguin, Texas; and a sister, Carol Sutterlin of Mesquite, Nevada. The family also includes several grandchildren and great-grandchildren.
Memorial donations may be given to the Riggins New Ambulance Fund, c/o Riggins City Hall, P.O. Box 249, Riggins, ID 83549 or Riggins Community Food Pantry, c/o Salmon River Senior Citizens Inc., P.O. Box 1285, Riggins, ID 83549.