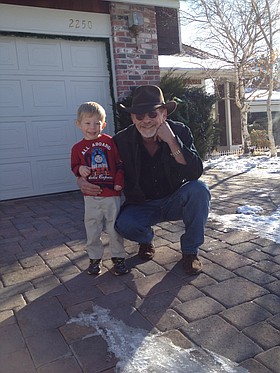 Barry Dean Westlake
March 26, 1950 - December 11, 2016
Barry Dean Westlake, 66, died unexpectedly on Sunday Dec. 11, 2016, at 11:30 a.m. at Joseph Regional Medical Center in Lewiston, Idaho. Per Barry's wishes, he will be cremated. Part of his remains will be in Idaho at Mount Zion with his Grandfather Harvey Orr and Grandmother Viola Orr.
Barry was the son of Beverly Jean Charles and Donald J. Westlake. He was born on March 26, 1950, in Coulee Dam, Wash. He was an exceptional athlete in high school. He attended the University of Washington and the University of Berkeley, Calif., where he studied psychology. He enjoyed learning and enjoyed writing.  Barry also had a charming, outgoing personality and often times was the life of the party. He made friends wherever he went and liked making people laugh. He had a special talent of creativity. He enjoyed restoring old cars, boats, or anything where he was able to do the job himself and he was quite talented at it. Barry loved the ocean and being on boats. He always dreamed of sailing around the world. Barry was a non-religious man. Throughout Barry's lifetime he lived in several different states and cities including Eureka, Calif.; Mt. Dillion, Colo.; Denver, Colo.; the state of Washington and, most recently, Elk City, Idaho. Barry loved his Grandpa Harvey Orr very much and felt a strong connection to spending time back in Idaho where his roots were from childhood.
Barry married and divorced once. He is survived by his father, Donald J. Westlake; daughter, Brooke Morgan Westlake; son-in-law, Scott Gordon Kelley; and his grandson, Grant Scott Westlake-Kelley of Reno, Nev. He is survived by his aunt, Verlena Orr of Portland, Ore. Barry was very proud of his daughter's many accomplishments. He is also survived by many extended family members in the Nezperce, Idaho, and Grangeville, Idaho areas.  Barry is preceded in death by his mother, Beverly Jean Charles, who passed away from Alzheimer's Feb. 24, 2012, and his grandparents, Harvey and Viola Orr, and Myrtle and Bob Ericson of Denver, Colo. 
Barry enjoyed education. In lieu of flowers a donation can be made to Barry's grandson's school: Hunsburger Elementary, 2505 Crossbow Ct., Reno, NV 89511. Tax ID: 88-6000-919
This will help continue Barry's love for education.  
Service arrangements are currently pending at this time.