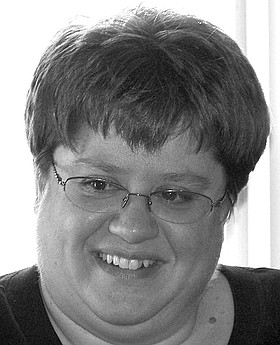 Candace Michele Johnston
Grangeville, Idaho
May 20, 1971 - January 28, 2016

Candace Michele Johnston, 44, passed away Thursday, Jan. 28, 2016, after a short but courageous battle with congestive heart failure. Candace was born May 20, 1971, to Darrell and Trish (Koester) Mager in Grangeville, Idaho. Growing up, she spent most of her time with her older brother, and best friend, Bob. The two could be seen together every morning faithfully delivering newspapers. A few years later they were joined by younger brother, Vince. Due to her mother's health, Candace looked after Vince. He fondly remembers spending hours in her room with her listening to music.
Candace attended Grangeville schools, graduating from Grangeville High School in 1989. She then went on to attend Lewis Clark State College and graduated in 1992 with a degree in bookkeeping.
Returning to Grangeville, she worked at K and R Video and Pierson Enterprises before starting to work at Baker Truck Service in 2002. There she found her true calling and a place she loved to work. Through her diligent work as safety director, she earned the respect of many truck drivers.
Candace married her high school sweetheart, John Johnston, on June 20, 1992. They were blessed with the birth of their daughter, Megan, in 1994. She became the center of Candace's life. Together they joined many local organizations, with Candace working her way up to leadership positions. She served as president of the Grangeville Swim Team, Saints Peter and Paul Home and School Organization and the Grangeville Booster Club. Her greatest dedication was to the local 4-H program. Candace was group leader for multiple projects in the Family Consumer Sciences Division, including cooking and cake decorating. She also served as group leader for the This-and-That 4-H group. In 2014, she was honored to receive the Distinguished Service Award for Idaho County 4-H.
Candace might have been best known for her cooking skills. She served for nine years as chairman of the Saints Peter and Paul Chocolate Fantasy food committee, preparing wonderful appetizers and desserts for the yearly event. She also loved hosting family gatherings and bunko parties.
Candace was preceded in death by her beloved mother, Trish.
She is survived by her husband, John; daughter, Megan; father, Darrell Mager; brother, Bob (Leah) Mager of Grangeville, and brother, Vince (Sueanna) Mager of Lewiston.
A Rosary vigil will be held Thursday, Feb. 4, at 7 p.m. at Sts. Peter and Paul Catholic Church. A memorial Mass will take place on Friday, Feb. 5, at 11 a.m. at the Sts. Peter and Paul Catholic School gymnasium. Arrangements are under the direction of the Blackmer Funeral Home, Grangeville. Send condolences to the family to Blackmerfuneralhome.com.
In lieu of flowers, the family suggests sending donations in her name to the Idaho County 4-H Program at 320 West Main Street, Room 3, Grangeville, ID 83530.