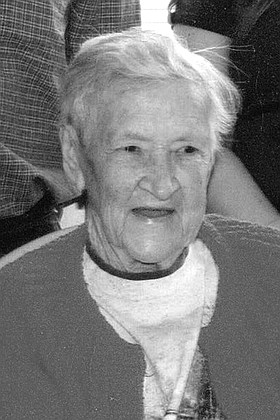 Eldora Alta (Paul) Andrews
Grangeville, Idaho
August 18, 1925 - January 30, 2016

Eldora Alta (Paul) Andrews, 90, was born Aug. 18, 1925, and passed away Saturday, Jan. 30, 2016, with her family by her side.
Eldora was one of 11 children born to Odel and Alta (Thompson) Paul. She was raised in the local Grangeville area. Eldora married her grade school sweetheart and love of her life, Lawrence I. Andrews, on Dec. 3, 1945. They recently celebrated their 70th wedding anniversary. Together they had six children.
Larry and Eldora owned and operated the Eat Shop and later the Shamrock Cafe for many years. She loved the outdoors -- fishing, hunting, huckleberry picking, mushrooming or just going for a ride on the hill. If you fished with Mom you knew she always caught the biggest fish even if she had to stretch it. The most important thing to Mom was her family. She loved it when they could all get together.
She is survived by her husband, Larry, at their home; children, Lila Reuter (Jeff), Sharon Davis, Martha (Randy) Smith, Larry Glenn Andrews, Connie (Jim) Chadwick; 24 grandchildren; 51 great-grandchildren and 11 great-great-grandchildren.
Her loving son, Douglas Dean Andrews, preceded her in death along with four sisters, six brothers and son-in-law, Wayne Reuter.
She will hold our hearts forever.
Cremation has taken place. At her request there will be no services. Arrangements are under the direction of the Blackmer Funeral Home. Send condolences to the family to Blackmerfuneral home.com. In lieu of flowers, donate to your favorite charity of choice.