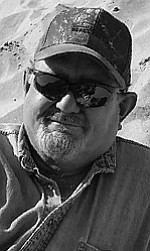 George E. McCallum
Lewiston, Idaho
June 6, 1947 - January 29, 2016
George E. McCallum, 68 formerly of White Bird passed away on Friday, Jan. 29, 2016, at St. Joseph's Regional Medical Center in Lewiston, Idaho, due to complications of leukemia.
George was born on June 6, 1947, in Grangeville, Idaho, to Durward "Lanky" and Alicebelle (Bentz) McCallum. George attended school in White Bird, Grangeville, and graduated from Lewiston High in 1965.
After graduation, George joined the U.S. Navy from September 1966 to June of 1969. He served as a plane captain in Attack Squadron 216 and served aboard the USS Intrepid, and the USS Coral Sea. He was honorably discharged at the rank of AMAN. After the Navy, he lived and worked in California for many years. He eventually moved to Alaska, where he met and married Chae Yi, which later ended in divorce. They had two children, Sarra Moon McCallum and Jamie Daniel McCallum. After the birth of his two children, George worked in the U.S. Postal Service and eventually ended up retiring.
George owned the Camas Cafe and the Camas Diner in Grangeville.
George was a member of the "Combat Vets" Harley group and also a member of American Legion. His hobbies were hunting, fishing and riding his motorcycle with family and friends.
George is survived by his two children, Sarra and Jamie McCallum both of Lewiston; two brothers, Gary Wright of Lewiston and Michael McCallum of Vancouver, Wash.; two grandsons, Jayden and Matthew McCallum; and significant other, Susie Segura.
George was preceded in death by his parents and a sister, Sharon.
A public viewing will be held Saturday, Feb. 6, from 9:30 to 10:30 a.m. at the White Bird IOOF Hall. Funeral service will follow at 11 a.m. at the White Bird IOOF Hall. Burial will take place at the White Bird Cemetery. Arrangements are under the direction of the Blackmer Funeral Home, Grangeville. Send condolences to the family to Blackmerfuneralhome.com.