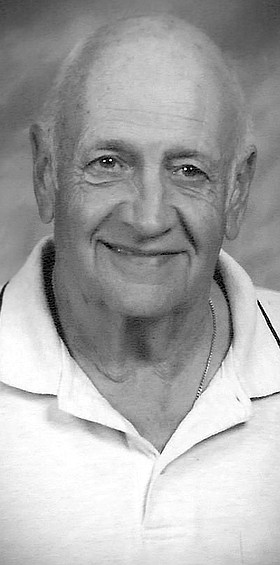 George A. Schaff
Kamiah, Idaho
February 22, 1932 - January 25, 2016

George A. Schaff, age 83, died of natural causes on Jan. 25, 2016, at the 3 o'clock hour of Mercy in Kamiah with his family by his side. He was born at Nezperce, Idaho, Feb. 22, 1932, to Innocent Schaff and Louise (Fuchs) Schaff. He attended parochial school through eighth grade and graduated from Nezperce High School in 1950. In 1952, he entered the U.S. Army and served in the Korean War until 1954 where he earned the National Defense Medal, United Nations Service Medal and a Bronze Star for his service. He was also awarded a "quilt of valor" in 2015. George married and had four children with Donna Adams. They divorced and in 1975, he married Lois Seubert-Arnzen, a widow.
He had a long career in the grocery business and car sales until retiring in 1993. George was a Kamiah community supporter and was instrumental in starting the annual Kamiah "swim team" crab feed. He also was a staunch supporter in the building of Kamiah's St. Catherine's Catholic Church. He was also a member of the VFW, American Legion and the Kamiah Gun Club. In 1998, he and his wife moved to Lewiston, where they were members of All Saints Catholic Parish.
George was an avid bridge player and along with his wife, Lois, they made a "real team." He and his wife did extensive travelling and were privileged to see Pope John Paul II during a tour of Europe. They also were "snow birds" for 10 years and enjoyed motor homing many miles throughout the country and Alaska.
After moving to Lewiston, he quickly made friends for early morning coffee. Nearly daily he visited the elderly and veterans. He had a real gift of compassion and communication in spending quality time with those who were unable to get out and about.
He is survived by his loving wife Lois; children, Bob Schaff (Melanie) of Athol, Idaho, Jan Schaff of Lewiston, Sherry Arnzen Martin (Don) of Lewiston, Chris Schaff of Clarkston, and Brad Schaff (Stephanie) of Kamiah; and numerous grandchildren and great-grandchildren; siblings, Margaret Zenner, Betty Gamel and Ray Schaff.
He was preceded in death by two daughters, Lori and Julie; his parents, Innocent and Louise Schaff; and sister, Catherine Baerlocher.
Funeral services were Saturday, Jan. 30, at St. Catherine's Catholic Church in Kamiah. Internment took place at the Nezperce Mount Calvary Cemetery at 3 p.m. Father Joseph Schmidt presided over George's final celebration of life. Trenary Funeral Home was in charge of arrangements.
Donations can be made in George's name to Idaho Catholic Charities or the Kamiah Gun Club (Glenn Hibbs).