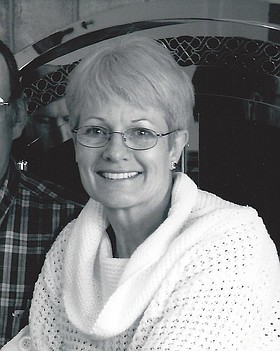 Donna Marie (Kinnick) Graber
Lewiston, Idaho
March 2, 1953 - January 31, 2016
Donna Marie (Kinnick) Graber, 62, of Lewiston, Idaho, went to be with her hero and Savior Jesus Christ early Sunday morning, Jan. 31, 2016. She was just in time for Sunday morning services in Heaven.
Donna was born to Ralph and Violet (Baldwin) Kinnick on March 2, 1953, on Tahoe Ridge near Kooskia, Idaho, which was her home and playground growing up. She attended school in Kooskia and graduated from Clearwater Valley High in 1971.
That summer after graduation, Donna went to work in Tash's store in Elk City, Idaho, and met Dale Graber, a country boy from the midwest, who was working for the forest service. They were married a year later on May 13, 1972, in Miami, Fla.
Work took them to Denver, Colo., and their first child, Carrie Jo, was born in 1974. A year later, they moved back to Idaho, settled in Kamiah, and had their second child, Heather Marie. In 1981, their family was complete with the birth of their third child, Dale Douglas. In 1984 the family relocated to Lewiston.
Donna had a lifelong love of the outdoors and the backwoods of Idaho. She loved family gatherings, hiking, hunting, fishing and breathing in the mountain air. Above all, the most important thing to Donna was her relationship with her best friend and savior Jesus Christ. She loved to talk about God and His goodness.
Donna was preceded in death by her parents, Ralph and Violet Kinnick; and sisters, Nancy and Sharon Kinnick.
Donna is survived by her husband, Dale Graber of Lewiston; her siblings, Lewis Kinnick of Fearnley, Nev., Gary Kinnick of Harpster, Idaho, Karen (Kinnick) Smith of Kooskia, Idaho, and Mikel Kinnick of Kooskia, Idaho; her children, Carrie (Graber) Buttrey of Marysville, Wash., Heather (Graber) Cooper of Meridian, Idaho, and Douglas Graber of Lewiston, Idaho; her grandchildren, Merissa Buttrey of Marysville, Wash., Josiah Cooper of Meridian, Idaho, and Shane Cooper of Meridian, Idaho.
Private funeral services were held at Trenary Funeral Home Chapel in Kooskia, Idaho. Interment followed at Tahoe Mountain Rest Cemetery near Kooskia, Idaho.