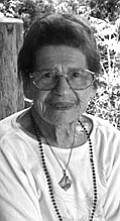 Lillian Edith Sandahl Groom
Grangeville, Idaho
April 3, 1930 - February 3, 2016

"Heaven has gained another angel"
Lillian Edith Sandahl Groom, 85, of Grangeville, Idaho, passed away peacefully into the arms of the Lord on Feb. 3, 2016, at the Life Care Center in Lewiston, Idaho, with her family by her side.
She was born on April 3, 1930, to Thorfin and Bessie (Underhill) Sandahl in Henning, Minn. She was raised on the family farm on Leif Mountain Hill in Nidaros Township. She attended and was confirmed at Nidaros Lutheran Church. As a young child she grew up milking cows, pitching hay, packing wood, and the usual chores associated with farm life. She worked at neighboring farms, as well as helping new mothers with their younger children. By the time she was 14 she moved off the farm and into town where she worked at Ranstad's Café in Battle Lake, Minn. She later moved to Fergus Falls, Minn., where she worked at Woolworths Department Store and at Skogmos Café. She completed her schooling and graduated from high school at Henning, Minn.
Lillian married Delmore Laurel Peterson in 1948 at Battle Lake, Minn. Together they had six children, Dale, Douglas, Darrell, Marcella (Kurt) Kammeyer, Yvonne (Mike) Conklin and Vickie (Jack) Armstrong. During this time, she worked at Gearhart Rest Home and Glendough Game Farm at Battle Lake, Minn. They moved from Minnesota to Idaho in 1963. They were later divorced.
Upon arriving in Idaho, Lillian began her studies at Lewis-Clark State College for nurse's training. She received her license and began to work as a licensed practical nurse at St. Joseph's Hospital in Lewiston, Idaho, and later at Tri-State Memorial Hospital in Clarkston, Wash. After moving to Grangeville, Idaho, in 1973 she worked at Grangeville General Hospital and Idaho County Nursing Home.
Lillian married John Groom in 1975 and was blessed to have his children as a part of her life. Brit (Sara) Groom, Theasa (Vern) Snyder, Penny (Willard) Stuivenga, Rob (Teresa) Groom and Susie (Dion) Heckman.
Lillian was an avid photographer and was a member of Central Idaho Art Association. She loved taking pictures of her family, scenery and wildlife. She never left home without her camera. Living on the ranch gave her many fine opportunities to display her art of photography. She entered one of her photos in the Kodak International Newspaper Snapshot Award contest and won third place in more than a half million entries. That original photo is on display in the archives at the National Geographic Museum at Washington, D.C.
Lillian loved all of nature. Her deck was decorated with beautiful flowers throughout spring and summer. Her yard was always filled with deer, peacocks and wild turkeys. During summer months hummingbirds took over the numerous feeders she set out.
Among her many hobbies she enjoyed listening to gospel and traditional country music and collecting dolls.
Lillian had an unconditional love for her family and she treasured each and every one of them. They were her life. She always took time to give an encouraging word and always put others before herself. She was well-known by her grandchildren for her "words of wisdom." Whether it was advice about "life lessons" or her traditional Norwegian family recipes, she had a way of making an impact on the lives of those around her. She was so much to so many, and her loving kindness, great sense of humor, and beautiful smile will be missed by us all. She brought a lot of joy to a lot of people and was a true example of God's hands here on earth, and her family was truly blessed to have her in their lives.
Lillian is survived by five of her children; her five stepchildren; two sisters, Marion Godel and Elaine Biederman of Battle Lake, Minn.; a brother, Eugene Sandahl of Clitheral, Minn.; 32 grandchildren and 65 great-grandchildren.
She was preceded in death by her parents; her husband, John Groom; a brother, Oliver Sandahl; a sister, Irene Listrom; her son, Darrell Peterson; a son-in-law, Vern Snyder; and three infant great-grandchildren.
A viewing will be held Friday, Feb. 12, from 3-6 p.m. at Blackmer Funeral Home. Services will be held Saturday, Feb. 13, at 11 a.m. at the Grangeville Christian Church, 402 W. South 1st St. in Grangeville, with interment to follow at the Prairie View Cemetery. Please join the family for a farewell luncheon at the Grangeville Christian Church after the burial. Arrangements are under the direction of Blackmer Funeral Home, Grangeville. Send condolences to the family to Blackmerfuneralhome.com.