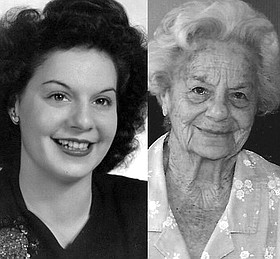 Helen Ida Litchfield
Grangeville, Idaho
May 3, 1926 - February 9, 2016
Helen Ida Litchfield, 89, of Grangeville, Idaho, passed away peacefully at her home on Feb. 9, 2016. Helen was born May 3, 1926, to Myrtle (Brockway) Rovetto and Michele (Mike) Rovetto in Mullan, Idaho.
Helen attended schools in Clayton and Mullan, Idaho, she graduated from Mullan High School in 1944. Helen married Jack Clark on Aug. 6, 1946, they later divorced.
On May 5, 1960, she married the love of her life, Leland (Litch) Litchfield. They were married more than 41 years, Litch passed away Aug. 22, 2001. They lived in Lewiston, Idaho, for a short time before moving to Grangeville where they owned and operated a grocery store. Helen had a love of animals especially cats, she loved to sew and work in her flower beds. Helen had a real love of her family and a very special place in her heart for her Auntie Francis and Cocoa Curly. Helen also had a love of her friends and caregivers, and a very close friendship to Judy and Bruce Wayenberg.
Helen is survived by her siblings, Angelo and Lela Rovetto of Lewiston, Idaho, Dolores Thellin of Crosby, Minn., Lorraine Arrasmith of Palouse, Wash., Melady and Robert Bullock of Federal Way, Wash.; stepson, Gary Litchfield of Milton Freewater, Ore.
She was preceded in death by her husband, Leland; and her parents, Mrytle and Mike Rovetto.
A special thank you to her caregivers for their love and dedication to Helen during the past year, Debbie and Marissa Pollan, Teresa Dunkelberger, Ellen Aiken, Kristi Harvey and Angela Finnell.
Graveside services were at Lewis Clark Memorial Gardens in Lewiston, Idaho, on Feb. 16. Arrangements were under the direction of the Blackmer Funeral Home, Grangeville. Send condolences to the family to Blackmerfuneralhome.com.