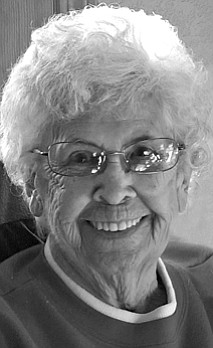 Elaine Green
February 8, 1931 - February 16, 2016
Elaine Green, 85, of Sturgis, S.D., entered her eternal rest on Feb. 16, 2016, at her Sturgis home.
Funeral services were held Saturday, Feb. 20, at Open Bible Church, 2121 Colorado Dr., Sturgis, S.D. Burial followed at Bear Butte Cemetery in Sturgis.
A memorial has been established to Open Bible Church.
Elaine was born Feb. 8, 1931, in Winchester, Idaho, to Monte and Mary (Buckles) Stephens. She was raised and educated in Winchester, graduating second in her class at Winchester High School.
Elaine married Eddie Wallace, having four children from this union, Larry, Bob, Debbie and Dick. Later she married Charles Green, having five children from this union, Kenny and Diane who were born in Idaho, and after moving to Sturgis in 1960, she had Karen, Doug and Cheryl.
Elaine worked at the Dakota Theater and at Chef Rudy's for many years, later retiring from Black Hills Special Services where she made puppets. She enjoyed working outside in her garden and flower beds, and couldn't wait for the first ripe tomato and radishes.
Elaine was a member of the Open Bible Church. She had a strong faith in Jesus, and knew Him as her personal Savior. She spent many hours in the Word, and prayed earnestly for her children and grandchildren. She took her children to church faithfully every time the doors were open, and had Bible studies in her home with the women of the church. Her greatest desire was to have all her family to come to know the Lord and serve God. Elaine relied on God throughout her life as she was raising her children as a single mother.
Left to mourn her passing are her children, Larry (Lila) Wallace of Sturgis, Dick (Debbie) Wallace of Gillette, Wyo., Diane Meisel of Sturgis, Karen (Scott) Helms of Rapid City, Doug (Melissa) Green of Sturgis, and Cheryl McElwain of Sturgis; 14 grandchildren; 21 great-grandchildren; three great-great-grandchildren; siblings, Max Stephens, Bob (Mary Jo) Stephens, Keith (Jan) Stephens, JoAnne Turla, Duane (Sue) Stephens and Bill Stephens; along with numerous nieces and nephews.
Elaine was preceded in death by her parents, William and Mary; a daughter, Debbie in infancy; two sons, Kenny and Bob; sister, Donna Stephens; and a granddaughter, Tiffany.
Condolences to the family may be made at www.kinkadefunerals.com.