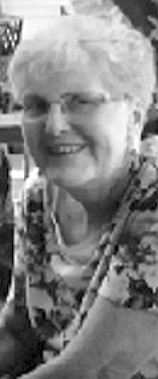 Jeanette E. Vrieling
Grangeville, Idaho
January 20, 1938 - December 31, 2015
Jeanette Elizabeth (Thomas) Vrieling, 77, of Grangeville, went home to her Savior in Heaven on Dec. 31, 2015, at St. Mary's Hospital in Cottonwood, Idaho.
Jeanette was born on Jan. 20, 1938, to Ray and Lora (Dickerson) Thomas at their home in Nezperce, Idaho. Jeanette was raised in Nezperce with her two brothers, Don and Wayne Thomas, and graduated from Nezperce High School in 1956.
On June 29, 1956, Jeanette was married to the love of her life, John Vrieling, in Grangeville. They made their home in Grangeville. Jeanette worked at First Security Bank until their first child, Cheryl, was born on Jan. 31, 1959. She then took on the distinguished role of a stay-at-home mom. Just a little more than a year later on Feb. 19, 1960, she gave birth to their second child, John. On April 25, 1962, their family was completed with the birth of their youngest daughter, Jody. Raising three little ones kept Jeanette very busy, but she excelled at her job as a mother, wife and homemaker. She made sure dinner was on the table every night, where they ate as a family and after dinner they gathered for their nightly scripture reading, instilling in her children the importance of family and the Lord.
Jeanette's faith played an important role in her life. She was a member of the Grangeville Christian Reformed Church for 59 years. She was active in ladies fellowship and in earlier years she helped to teach Vacation Bible School in the summer. Jeanette knew the Lord and we can rest assured knowing she is thriving in Heaven in the arms of a God that is so good.
Jeanette was a very gifted seamstress, and this was one of her favorite hobbies along with embroidery. Some of the family's most treasured gifts were those that were sewn or embroidered by Jeanette. She loved the gifts of nature that the good Lord provided. She was an avid bird watcher, and you would often find her gazing out her kitchen window waiting for the next one to land on the feeder. She and John kept a beautifully landscaped yard and a thriving garden. She loved to pick strawberries and raspberries in the back yard with her grandchildren during the summer, and what berries they didn't eat she would make into her famous jam. At their cabin in Red River is where Jeanette would find her peace, whether it was rocking in her chair on the porch, walking the dusty road to the creek, or catching frogs with her grandkids by the cattle-guard, she was in her happy place. Jeanette leaves those who knew her with hearts full of memories they will forever cherish.
Jeanette is survived by her loving husband, John; her three children and their spouses, Cheryl and Jon Zehner, John and Judi Vrieling and Jody and Chad Miller. She is also survived by her grandchildren, Ashley Miller-Meyer, Cody Vrieling, Jeremy Martin, Jordan Martin, Angie Vandenbark, and Jon Paul Zehner; and great-grandchildren, Max and Lilli Meyer, Jace Jenkins, Paislee Vrieling, Shelby Kinney, Hailey and Brooke Vandenbark, Heather, Dominik, Lexie, and Mitchell Zehner, TJ Hewett; and a half sister, Judy in Portland Ore.
She was preceded in death by her parents, Ray and Lora Thomas; her brothers, Don and Wayne Thomas; sister, Dorothy Thomas; grandson, Clinton Miller; and granddaughter, Nicole Frei-Jenkins.
The service was held Tuesday, Jan. 5, at Blackmer Funeral Home in Grangeville. There was a private family burial following the service.
In memory of Jeanette, donations may be made to Grangeville Christian Reformed Church or The Gideon International. Send condolences to the family to Blackmerfuneralhome.com.
My Father's house has many rooms; if that were not so, would I have told you that I am going there to prepare a place for you? And if I go and prepare a place for you, I will come back and take you to be with me that you also may be where I am. John 14:2-3.