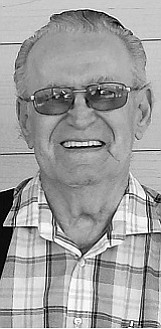 Theodore A. Nuxoll
Grangeville, Idaho
February 11, 1931 - December 30, 2015
The hour hand on Dad's watch stopped yesterday but the minute hand kept going. We had planned to take it to a timekeeper today. Dad said "We'll see."
Last night the Master Timekeeper took a look at his watch and must have said, "Come with Me," so Dad did.
Ted A. Nuxoll of Grangeville, Idaho, passed away on Dec. 30, 2015, at his daughter and son-in-law's home in Kennewick of natural causes.
Ted was the youngest son and the eighth of nine children born to Henry F. and Cathryn M. Nuxoll on Feb. 11, 1931, at the family home in Greencreek, Idaho. Shortly after graduating from Greencreek High School he joined the Army where he served in New Mexico for two years.
After his time in the service he came back to the family farm in Greencreek where he met Sara Lou Piersol. They were married on Oct. 5, 1957. They lived on the family farm where they started their family. In 1962 he moved the family to Grangeville and he began working at the Mount Idaho Mill where he continued to work in the lumber industry until his retirement in 1992.
Ted was a long-standing member of Sts. Peter and Paul Catholic Church as well as a board member for Pine Tree Credit Union in Grangeville.
Ted was an avid outdoorsman enjoying hunting, fishing, cutting firewood, camping and spending time with his family and friends in the outdoors creating many memories, especially the times spent at Winchester Lake and Hammer Creek. He also enjoyed gardening and sharing his harvest with family and friends. Ted continued his woodworking after his retirement making many beautiful items.
He was preceded in death by his wife of 54 years, his parents and a very extended family.
Ted is survived by his five children, Jeanna and Clarence May of Kennewick, Wash., Betty and Mike Townsend of Pendleton, Ore., Ted and Cindy Nuxoll, Tim and Debi Nuxoll and Daryll Nuxoll all of Lewiston, Idaho; 19 grandchildren and 22 great-grandchildren. He is also survived by his sister, Winfried Johnson, and his sister-in-law, Jennie Nuxoll, both of Grangeville.
A public viewing will be from 3 to 6 p.m. Thursday, Jan. 7, at Blackmer Funeral Home. In celebration of his life, there will be a Rosary following the 6:30 p.m. weekday Mass Thursday at Sts. Peter and Paul Catholic Church. The funeral Mass will be conducted at 10:30 a.m. Friday, Jan. 8, at Sts. Peter and Paul Catholic Church followed by interment at Prairie View Cemetery. In memory of Ted, donations can be made to Sts. Peter and Paul Church or the charity of your choice. Send condolences to the family to Blackmerfuneralhome.com.
You don't know the hour that you'll be called home, so cherish every second you have on earth.