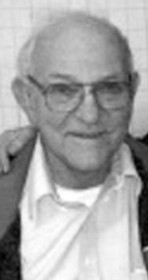 Vincent Michael Poxleitner, Sr.,
Keuterville, Idaho
May 1, 1925 - January 2, 2016
Vincent Michael Poxleitner, Sr., 90, passed into eternal rest Jan. 2, 2016.
Vincent was the seventh child born to Charles J. and Mary Ann Poxleitner May 1, 1925, in Ferdinand, Idaho.
He graduated from St. Gertrude's Academy and enlisted in the Navy to fight in World War II. He served on board the USS LST 681 in the Pacific Theatre of the war. After the war he met Alma Sarbacher whom he married at the Church of the Assumption in Ferdinand, Idaho, on Nov. 5, 1946.
He attended the University of Idaho for one semester but was called home to help his father and brothers build the Poxleitner Sawmill. Vince and Alma then settled on their ranch in Keuterville where they lived for the next 68 years, raising children, operating the sawmill, logging and raising Angus cattle. Vince inspired many young men as they worked at the sawmill.
Vince was active in community organizations volunteering many hours of service. He coached basketball at St. Gertrude's and Keuterville Public School. He was a member of the Idaho Association of Soil Conservation District Board, the Idaho Woodland Council, a Democratic Precinct Committeeman among others. He was most involved as a member of the VFW since 1951 and received a lifetime achievement award in 2013 in recognition of 63 years of service.
The Catholic Church was a central part of his life. His strong faith guided his actions in both business and personal life. He was a man of integrity, and held high expectations for his children and those around him. He was an avid reader and placed great importance on education.
Vince and Alma were blessed with 16 children, 59 grandchildren and 37 great-grandchildren. Vince Jr. (Lois) Poxleitner, Johnny (deceased), Ruth (Bill) Jacobs, Kathy (Tim) Roulo, Jim (Denise) Poxleitner, Marian (Dave) Forsman, Lauretta Poxleitner, Joanne (Mark) Wood, Dwight (deceased), Susan (Alan) Glueckert, Beverly (Nick) Wood, Ed (Jackie) Poxleitner, Lynette Cochran, Delores (Ron) Fitzsimmons, Eileen (Bill) Walker, Bonnie (Scott) Moses.
Vince was preceded in death by two infant sons, Johnny and Dwight; his parents, Charles and Mary Ann; his stepmother, Margaret; and all his siblings.
A Rosary was held on Saturday, Jan. 9, at St. Mary's Church in Cottonwood followed by a funeral Mass. Burial followed at Keuterville Cemetery. Services were under the direction of Blackmer Funeral Home, Grangeville. Send condolences to the family to Blackmerfuneralhome.com.