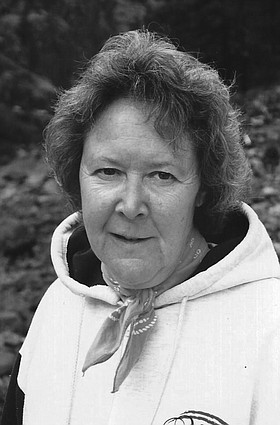 Glenda D. Koch
Meridian, Idaho
unknown - January 21, 2016
Glenda D. Koch, 64
Meridian, Idaho
Glenda D. Koch, 64, Meridian, Idaho, lost her valiant battle with ovarian cancer at home on Thursday, Jan. 21, 2016. Her loving husband, Ken, was at her side.
She was preceded in death by her father, Lonnie (Chick) Stout; her nephew, Brian Bosch; and several aunts and uncles.
Surviving her are her mother, Jane Stout of Meridian; her husband of 30 years, Kenneth Koch of Meridian; daughter, Ari (Tony) Ford of Nampa; stepsons, Carl (Rhonda) Koch and Shawn Koch all of Boise, Sheldon Koch of Columbus, Mont., Clint (Paula) Koch of Kuna; 11 grandchildren; five great-grandchildren; brother, Mike (Jen) Stout of Round Mountain, Nev.; sisters, Norma Bosch of Buckley, Wash., and Carrie (Mike) Magette of Meridian, Idaho; maternal uncle, Lester Shaw of Boise; numerous nieces, nephews and cousins; her faithful dog, Bungee; and as many friends as there are stars in the sky!
In lieu of flowers, at Glenda's request, the family suggests donations in her name to MSTI-Meridian – 520 S. Eagle Road, Meridian ID 83642.
Arrangements were under the care of Cloverdale Funeral Home at 1200 N. Cloverdale Rd., Boise Idaho. A celebration of her life was held on Monday, Jan. 25, with burial following at the Kuna Cemetery.
If you knew Glenda well, you knew her love of order and organization prevailed everything, how she always had things done early, and how she would go out of her way to make life easier – if not better – for the rest of us. True to that nature, when she found out that her time here on earth was running out, she immediately went into planning mode to make life a little easier for those of us left behind. The following is her life story, written in her own hand, as she wanted you to know it:
I was born on Oct. 4, 1951, to Lonnie W. (Chick) Stout and Jane (Shaw) Stout. I lived an idyllic, early childhood along the Selway/Lochsa Rivers in N. Idaho. Dad worked for the USFS at Fenn Ranger Station, and thus I developed a lifelong love for Smokey Bear and the smell of Forest Service canvas. Dad was a hard worker and pretty strict, but he would read stories to me and let me help him in his shop. Mom was a stay-at-home mom, and she and I had many adventures visiting friends and family during those days. She is the best mom in the world by far.
When I was 4 years old, we moved to the CCC housing south of Riggins, Idaho. Shortly thereafter, my brother, Mike, was born. He has grown up to be a kind and loving man and a good friend. He sets a high bar for brotherly examples. Just before I started school and could ride the bus, we moved to North Riggins, and my sister, Norma, was born. She is a great sister, fun and funny, adventurous and caring. You would want her to be your sister. Later, we moved to the main part of town, and youngest sister, Carrie, was born. She was such a fun child and has turned into a great person. She is another example of what a great sister can be. Through the years, we have lived the closest of the siblings and so have had lots of adventures together.
When I was 14, I started working as a dishwasher at my aunt's restaurant, Summerville's Café. The most important thing I learned working there was to never go anywhere empty-handed. This influenced me my whole life. I also worked at Weed's Drive-in for George and Leona Weed, who were sticklers for hard work but also taught me that you can laugh and joke to lighten the hard work.
After graduating high school, I worked for the USFS as a fire lookout in the summers and on the brush crew in the spring and fall. Another lesson learned – never carry your axe on the uphill side. I was fortunate to work with the old guard who had common sense – Ace Barton, Elmer Greenbank, Red Woods, Alton Harrington, Art Riley and Chuck Beardsley to name a few. This was the beginning of women crews working alongside men crews in the USFS. The men only tolerated the women at first but soon realized we were hardworking, dedicated and did good jobs. Late falls and early springs, I went to college at TVCC in Ontario, Ore., and then to EWU in Cheney, Wash.
After college, I married my first husband, Wes Widner, (Weiser, Idaho), and we had daughter, Ari (the best daughter anyone could ever ask for). She has been a fun and easy child to raise and is hardworking and funny. We enjoyed many adventures together. Our trip to Ireland – at her urging – was the dream of a lifetime, and I will take those special memories with me to the grave.
In Weiser, I drove school bus, dispatched for the Weiser Police Dept., and sprayed weeds for Washington County. Wes and I later divorced.
In 1985, I married the love of my life and best husband in the world, Ken Koch, and moved to Meridian, Idaho. Our combined family was five kids (Ken's four boys, Carl, Shawn, Sheldon and Clint and my daughter, Ari) and several well-loved dogs. With all the kids, life was never boring. Ken's family was always very supportive, and together with the kids and dogs we had many good times. I also want to thank Ken's extended family for making Ari and me and my whole family feel like we belonged.
While living in the Meridian-Kuna area, I drove school bus for the Meridian School District for two seasons, for Aluma Glass Industries for five years, and for the City of Boise before finding my true work home and family for 23 years at the State of Idaho Public Utilities Commission. The IPUC is an interesting and hardworking place, and I found almost every minute fascinating. I retired from the IPUC on March 28, 2014.
In February, 2014, I was diagnosed with ovarian cancer. I lived out the rest of my days the best I could, surrounded with the wonderful care and company of my husband, my mom, our kids, extended family, friends and beloved dog, Bungee. In addition, my family and I wish to thank my caring doctors, Dr. Weiss and staff at Primary Health, Meridian, Dr. Ben Bridges and staff at MSTI-Meridian, and Dr. Perez and staff at MSTI-Boise. Also, the staff at Meridian St. Luke's ER and the Boise and Meridian St. Luke's hospitals who have cared for me. And most recently, the amazing staff of St. Luke's Hospice for their special care in my last days. I have few regrets and have always tried to give more than I took. I hope I left you with a good laugh or two to remember me by.