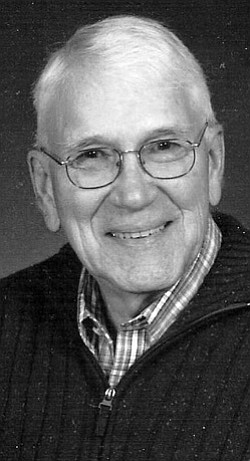 Robert O. Rehfeld
Lewiston, Idaho
April 28, 1927 - January 16, 2016
Bob Rehfeld, 88, a longtime resident of the Idaho Clearwater Country, died peacefully in his sleep on Jan. 16, 2016, at Royal Plaza in Lewiston.
Bob was born April 28, 1927, in Missoula to Otto and Cecilia Rehfeld. He graduated from Missoula County High School in 1945 and enrolled that fall at the University of Montana. With the end of WW II, the Grizzly football program was resurrected and Bob responded to the call for players. He earned a spot on the team as a tackle and was awarded a letter for his efforts. Bob graduated with a degree in Forestry in 1950.
During the war, the Forest Service hired high school students for trail work and Bob jumped at the opportunity to work on the Lolo Forest. A few summers later he trained as a smokejumper where he recorded 11 jumps out of a Ford Trimotor in the summers of 1945 and 1946. His first jump was on Surprise Creek on the Nez Perce National Forest. He continued summer work with the Forest Service during his college years working on lookouts until he graduated.
Bob served in the U.S. Army during the Korean Conflict. He was stationed at Camp Atterbury, Indiana, where he rose to the rank of corporal and served as a mortar instructor for a chemical battalion. It was on a weekend pass to Cincinnati that he met a perky college coed at a dance.
He introduced himself to Joyce Breen and asked her to dance. While conversing and hoping to meet again, Joyce indicated she would only date Catholic boys. Bob convinced her he was not only Catholic but an altar server as well by reciting the Confiteor in Latin. Bob and Joyce married on July 18, 1953, and remained lovers for 62 years.
Upon his discharge from the Army, Bob was hired once again by the Forest Service and embarked on an idyllic career in forest management. With his new wife in tow, he headed west. His career would take them to Thompson Falls, Seeley Lake, Orofino, Custer, Ketchikan, Grangeville, Juneau and Duluth. Bob and Joyce raised five children and made friends across the country. Bob retired as the Forest Supervisor for the Superior National Forest in 1982 and moved to Clarkston. Bob and Joyce remained active with the forest service retiree group hosting many reunions and volunteering at the Lochsa Historic Ranger Station.
Their love of the people and the prairie drew them back to Grangeville in 1991. They built a home and enjoyed many friendships in the community. Bob was active in the choir at Sts. Peter and Paul Parish and volunteered for many school fund-raisers and events. Bob and Joyce lived in Grangeville until 2013 when they moved to Royal Plaza in Lewiston.
Bob was preceded in death by his parents, Otto and Cecilia; his stepfather, Art Munson; and his brother, John.
Bob is survived by his wife, Joyce; son, Bob and his wife Karen of Juneau; son, Denis and wife Carrie of Grangeville; daughter, Marcy and husband Jim Colyer of Poulsbo; son, Kurt of Juneau; and daughter, Teresa and Craig Trulock of Medford; grandsons, Otto (wife, Johanna) Rehfeld, Jon Colyer, John Rehfeld, Connor and Hunter Trulock; and granddaughters, Hilary (husband, Adrian) Padilla, Mary (husband, David) Berry, Gretchen Rehfeld, Margaret Rehfeld, Caelan Colyer, Gerta Rehfeld and Reagan Colyer; great-grandchildren, Caroline and Evan Padilla and Ephriam, Damian and Avery Rehfeld; and numerous other relatives and friends.
Services for Bob were held at Sts. Peter and Paul Catholic Church in Grangeville, Idaho, on Jan. 23, 2016. Joyce Rehfeld and family may be contacted through Denis Rehfeld at 835 South A Street, Grangeville, ID 83530.
Bob's ashes will be interred in St. Mary's cemetery in Missoula, Mont.