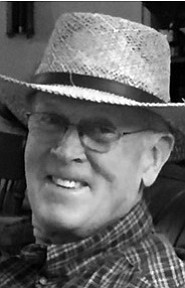 Stephen Rodger Hopkins
Los Angeles, Calif.
October 27, 1941 - January 20, 2016
Stephen Rodger Hopkins, 74, was born in Los Angeles, Calif., on Oct. 27, 1941. He was raised in the Pasadena area and was very proud of his California roots. He passed peacefully on Jan. 20, 2016, after a sudden illness.
Steve attended Chapman College in Orange, Calif., on a basketball scholarship. While there, he met homecoming queen, Ruthie Gortsema, who became his wife in 1964. During his college years, Steve served as a lifeguard and counselor at the YMCA Camp Bluff Lake in Big Bear, Calif., which led to great stories of countless pranks.
Steve began his career with Allstate in Santa Ana, Calif. As his career grew, he and Ruth moved throughout the United States. After 31 successful years, they retired to Asheville, N.C. Upon starting a new chapter after his corporate life, Steve found a passion for helping others. He volunteered for 10 years at Food for Fairview where he helped stock and deliver food. Through the Literacy Counsel of Buncombe County, Steve dedicated more than 10 years of his heart and soul to weekly lessons teaching English to Hispanic families. Through the last several years, he also assisted at Fairview Elementary and Cane Creek Middle schools as a tutor.
Steve was faith filled and dedicated to serving at Central United Methodist Church. There, he became a Stephen Minister and took that responsibility to heart, providing care, compassion and encouragement to people. Steve and Ruth had the joy of two unforgettable mission trips to Bolivia and Costa Rica where he contributed to a wide variety of church building projects.
Sports played a significant role in Steve's life. He grew up listening to the Brooklyn Dodgers on the radio and became a lifelong fan. While especially fond of the alma maters of his children, University of Iowa and Purdue University, he followed all sports, many teams and became a Clemson Tiger once he settled in N.C.
Steve was preceded in death by his parents, William and Frances Hopkins.
He is survived by his wife, Ruth, who was his friend and devoted partner through 51 years of marriage; two sisters, Susan Jameson, husband Jim, of Boise, Idaho, and Nancy Short, husband Reggie, of Laguna Nigel, Calif.; two children, Shannon and Rick Thompson of Rock Hill, S.C., and Matt and Kendra Hopkins of Bloomington, Ind.; grandsons, Stephen (16), Benjamin (12), Andrew (13) and Jack (10). Steve's grandsons brought him laughter, kept him young and gave him great pride.
Steve was a quiet, humble, unassuming man with a deep faith. His greatest joys were sitting on the porch soaking in the beauty of the Blue Ridge, watching ball games, planning trips with Ruth, barbecuing on his old Weber and laughing with his grandchildren.
A memorial service will be held at 1:30 on Friday, Jan. 29, at Central United Methodist Church with a reception to follow in the Fellowship Hall. In Steve's honor and memory, donations may be made to Central United Methodist Church, The Literacy Counsel of Buncombe County or Food for Fairview. As you remember Steve, strive to be kind, do good deeds and love your family and friends.